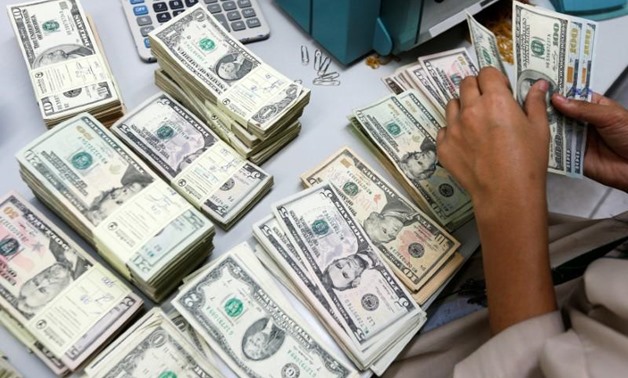 The price of the US dollar against the Egyptian Pound went up in local banks during morning trading on Tuesday, at an average three piasters higher compared to Monday's prices.  
The exchange rate is impacted by severe turmoil in global financial markets, against the backdrop of fears of the spread of the coronavirus and the drop in global oil prices.
According to the Central Bank of Egypt (CBE), the average exchange rates for the US dollar are: LE 15.77 for selling and LE 15.65 for purchase.
In the National Bank of Egypt, the US dollar is being sold at LE15.74 and bought at LE15.64.
At Banque Misr, the US dollar is being sold at LE15.75 and bought at LE15.65.
At Abu Dhabi Islamic Bank, the dollar is being sold at LE15.76 and purchased at LE15.67.
At the Commercial International Bank and Suez Canal Bank, the US dollar is being sold at LE15.77 and bought at LE15.67.
The US dollar exchange rate has decreased by about 25 piasters in January, a result of foreign investment in government debt instruments, which reports indicated exceeded two billion dollars since the beginning of January.
Egypt devalued its currency by 48 percent in 2016, allowing it to float freely, in order to meet a key demand by the IMF and secure a three-year $US 12 billion loan from the fund. The Egyptian pound was formerly pegged at LE8.8 against the US dollar.
Edited translation from Al-Masry Al-Youm