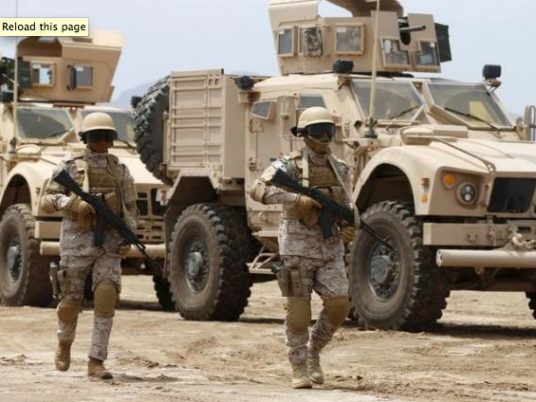 The US military said on Friday it had deployed a small force to Yemen to offer intelligence and logistical support for the United Arab Emirate's so far successful push on the ground against al-Qaeda's most dangerous affiliate.
Around 2,000 Yemeni and Emirati troops advanced into the seaport of Mukalla late last month, taking control of its port and airport and meeting little resistance in what had been a stronghold of al-Qaeda in the Arabian Peninsula (AQAP).
Reuters was first to report UAE's planning for the offensive and its far-reaching request for US assistance.
Pentagon spokesman Captain Jeff Davis told a news briefing the US military had so far provided everything from intelligence support and advice and assistance with operational planning to medical support and aerial refueling.
It was also dedicating airborne intelligence, surveillance and reconnaissance assets to support the Gulf ally's push.
"AQAP remains a significant security threat to the United States and to our regional partners and we welcome this effort to specifically remove AQAP from Mukalla and to degrade, disrupt and destroy AQAP in Yemen," Davis said.
Davis declined to say how many US forces were in Yemen but said it was a "very small number." They arrived within the past two weeks and were operating from a fixed location to provide intelligence support, he said.The amphibious assault ship USS Boxer was also off the coast of Yemen to provide medical facilities if needed.
New US strikes
US intelligence and military officials view AQAP as a threat to the United States. The group has plotted to down US airliners and claimed responsibility for last year's attacks on the office of Charlie Hebdo magazine in Paris.
The Pentagon also disclosed on Friday four new counter-terrorism strikes against AQAP since April 23, killing 10 al-Qaeda operatives and injuring another. Davis said the operations were independent of the UAE's Mukalla push.
Despite significant US strikes, including one that killed AQAP's leader last year, US counter-terrorism efforts have been undermined by Yemen's civil war. Prior to the Mukalla offensive, AQAP was estimated to have become more powerful than at any time in its history.
Officials say the US support is a reflection of the US view of the Emirates' capabilities, including its well-trained and resourced special operations forces on the ground.
The conflict forced the evacuation in early 2015 of US military personnel who had orchestrated an anti-AQAP campaign involving Yemeni special forces raids backed by US air power.
The deployment of American personnel to support UAE in this limited operation could show increasing U.S. willingness to re-engage on the ground.