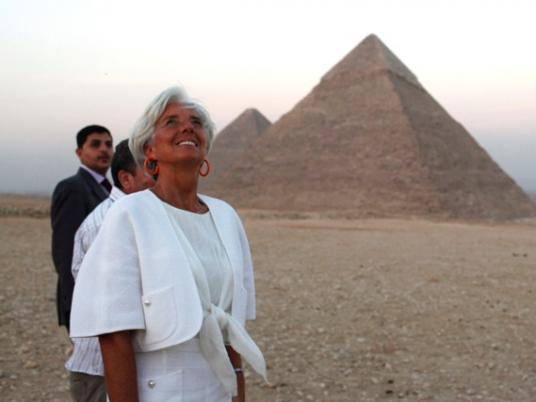 The head of the US economic delegation said Wednesday that United States welcomes Egypt's negotiations with the IMF as the first step towards the country's economic rebound.
"It will provide a foundation for sustained growth and inclusive economic opportunity," said Robert Hormats, undersecretary of state for economic growth, energy and the environment.
The delegation also discussed details of a promised US aid and investment program to Egypt and relief possibilities for Egypt's most pressing debts in meetings with Prime Minister Hesham Qandil and other top officials in recent days.
"We have heard from your government and heard from many Egyptians about your most important and urgent economic priorities," Hormats said in a press conference held at the American Chamber of Commerce. "Egypt's priorities are where we want to focus our attention and our efforts."
The delegation's visit, first announced by US Secretary of State Hilary Clinton during her July meetings with President Mohamed Morsy, comes after a high-profile visit by IMF Managing Director Christine Lagarde last week. During Lagarde's visit, Morsy and Lagarde said negotiations for a US$4.8 billion dollar loan will be going forward. The loan, originally offered over a year ago, has been a large source of controversy for the country's interim governments.
The US delegation, Hormats said, focused on implementing the economic support package set forward previously by Clinton and US President Barack Obama during Egypt's political transition.
Since the uprising in January of last year, the Obama administration and the US Congress have promised to relieve $1 billion of Egypt's $3.2 billion in debt to the US, and have offered $150 million in aid for economic development and democracy building-projects.
The debt relief, Obama said, would come in the form of a "debt swap," in which Egypt, instead of paying its debt, would invest the money in the local economy.
The Overseas Private Investment Corporation, a US government agency, offered $2 billion in loans, loan guarantees and risk insurance for American firms investing in the Middle East and North Africa. The corporation already gives $2.6 billion in support to US firms in the region yearly.
In his statements Wednesday, Hormats explained the specifics of the OPIC and other relief money.
By giving a $250 million to Loan Guarantee program for Egypt, Hormats said OPIC will be able to support up to $700 million in small and medium sized business lending by local banks and other institutions.
He also said the investment corporation had approved $125 million in financing for the Cairo-based Citadel Capital firm. Using this money, he said Citadel willprovide loans to medium-sized Egyptian companies in the transportation, finance, information and communication technology, and consumer food sectors.
More loans to small and medium-sized businesses will be administered through USAID. In partnership with HSBC, Hormats said the agency will offer $34 million to small businesses.
He also announced the establishment of a US-Egyptian enterprise fund to promote stronger investment ties, and help spur small business growth. The government has allocated $60 million to get it started, he said.
Though he did not discuss greatly the IMF loan at any length, it seemed to be an assumed precursor for the economic assistance plan. A second US delegation is set to arrive in September to implement the package.
He encouraged Egyptian officials and lawmakers to adopt free-market principles also advocated for by the IMF — a bankruptcy law that would provide recovery for indebted individuals, a healthy dispute settlement process, welcoming policy towards international and domestic franchises, and stronger intellectual property and trademark laws.
He also encouraged Egypt to remove bureaucratic hurdles for entrepreneurs and businesses.
"Easing the ability to obtain concessional opportunities and construction permits — construction permits in particular as many companies find it difficult to obtain construction permits or obtain them quickly — and clear procedures for the enforcement of contracts would also produce investment and jobs," he said.
Domestic resistance
But popular support for the IMF loan and US assistance remains lukewarm. A year ago, many Egyptians called for the government to refuse the loans outright due to fear of accompanying economic austerity plans and political conditions. Many see the loans as a dangerous way for foreign bodies to interfere in domestic policies.
On Wednesday, dozens of protesters marched from the city's downtown financial district to the cabinet headquarters, asking the government to drop negotiations for the loan.
Organized by the Campaign to Drop Egypt's Debt and the Revolutionary Socialists group, the protest was meant to educate average people on the implications of the IMF loan and the unfairness of the government's current debt policy.
Campaign members passed out flyers which said that half of the taxes Egyptians pay go towards repaying government debts, and the average citizen pays 27 percent of his income in taxes, while companies pay only 13 percent.
Protesters called for Morsy and his government to reject the loan and its conditions, whose cost they said would fall squarely on the poorest citizens' shoulders.
"No to exploitation," they chanted.
"I refuse the loan because there are conditions," said Amr Riad, a journalist taking part in the protest. "The real interest is higher than they say it is. Morsy is basing his program on the businessman, not the citizen."
Youssef Youdi, an actor, was passing through Borsa, the financial district filled with cafés, when he saw the protest gathering and decided to join. He walked with the group until they reached the cabinet building.
"Egypt doesn't need money," he said. "We have money, it's just been stolen by our leaders and is outside the country. We should bring that money back."
He also said Egypt had a wealth of other resources within its borders.
"We have manpower," he said. "Look at the Suez canal — that was built with our hands."