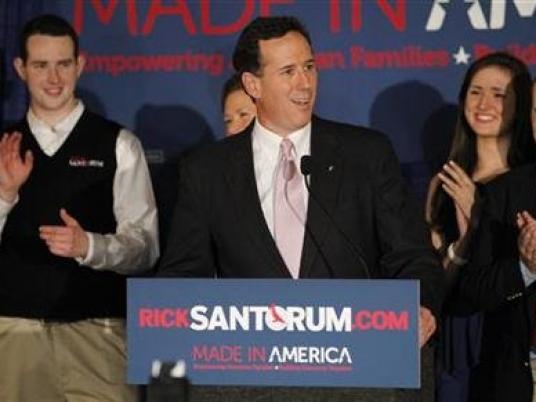 BIRMINGHAM, Alabama — Republican Rick Santorum won a pair of crucial Deep South primaries on Tuesday, taking control of the party's conservative wing in the presidential race and dealing a severe setback to rival Newt Gingrich.
Santorum narrowly defeated Gingrich and front-runner Mitt Romney in three-way battles that shook up a volatile Republican presidential race that has already seen a series of shifts and stumbles.
The losses were a huge blow to Gingrich, who represented Georgia in Congress and desperately needed a win in one of the Deep South states to validate his southern-based comeback strategy and keep his struggling campaign afloat.
"We did it again," Santorum told supporters at a victory rally in Lafayette, Louisiana, the next southern state with a primary, on 24 March.
"We will compete everywhere," said Santorum, a former Pennsylvania senator who was heavily outspent in both states by Romney. "The time is now for conservatives to pull together. If we nominate a conservative we will beat Barack Obama."
The Republican showdowns in the Deep South, a party stronghold in the general election, had been a crucial test of strength in the battle for conservative supremacy between Santorum and Gingrich.
Pressure will mount on Gingrich, a former House of Representatives speaker, to drop out so Santorum can consolidate conservatives in challenging Romney. But Gingrich repeated his pledge to push on with his campaign to the convention in Tampa, Florida.
"The fact that I want to talk about substance is what makes this campaign different from other campaigns and is a reason we're going to go all the way to Tampa to compete for the nomination," he told supporters in a Birmingham hotel ballroom.
Romney has opened a big lead in delegates in the Republican race to pick a challenger to President Barack Obama in the 6 November election, but he has been unable to capture the hearts of conservatives who distrust him for moderate stances he took as governor of liberal Massachusetts.
With nearly all the votes counted, Santorum won 33 percent in Mississippi to 31 percent for Gingrich and 30 percent for Romney. In Alabama, Santorum had 35 percent and Gingrich and Romney each had 29 percent. Gingrich was slightly ahead of Romney in Alabama for second place.
The results were a setback for Romney, the shaky front-runner who was hoping a breakthrough win in the South would prove his ability to appeal to the party's core conservatives.
The two third-place finishes by Romney ensured the often shifting race will continue into April or beyond. They also are likely to increase talk that none of the contenders will win the 1,144 delegates needed to clinch the nomination before the contests end in June.
'Not much of a front-runner'
"If you're a front-runner and you keep coming in third, you're not much of a front-runner," Gingrich said. "The elite media's effort to convince the nation that Mitt Romney is inevitable just collapsed."
But Romney adviser Eric Fehrnstrom said his goal for the evening had been to win one-third of the delegates in play in the two states and Hawaii, which was holding caucuses, and he would meet that goal.
"With the delegates won tonight, we are even closer to the nomination," Romney, who did not make a public appearance after the results, said in a statement.
Entering Tuesday's contests, Romney had more than 450 delegates in most media counts, more than twice as many as Santorum and far more than Gingrich, who had more than 100.
Fifty delegates were at stake in Alabama, 40 in Mississippi and 17 in Hawaii. In each of the states, candidates are awarded delegates proportionally based on their vote totals.
Before the results were in, Romney told CNN that Santorum was reaching the "desperate end of his campaign" and faced a steep climb to catch up in the race for delegates.
"He's far behind in the delegate count and he's far behind in the popular vote count. If you look at the map and how many delegates he'd have to win to become the nominee, it's a very difficult road for him," Romney said.
The other remaining Republican presidential contender, Texas Congressman Ron Paul, largely skipped the Alabama and Mississippi contests to focus on later states in the process.
Exit polls showed more than 7 of every 10 voters in both states were white evangelical Christians, and Santorum ran slightly ahead or even with Gingrich among them.
The two conservatives also split the votes of those who said they backed the fiscally conservative Tea Party, while Santorum slightly edged Gingrich among the 4 of every 10 voters who described themselves as very conservative.
More than half of voters in Mississippi and Alabama said Romney was not conservative enough for them, but exit polls also showed that about 3 of every 10 voters in the two states described themselves as moderate or liberal, and Romney won them heavily.
All three candidates were looking ahead to the next contests. Romney headed on Tuesday to Missouri, where Santorum won a non-binding vote last month but caucuses will be held on Saturday to determine who gets the state's 52 delegates.
Santorum was in Louisiana on Tuesday, and will spend two days in Puerto Rico on Wednesday and Thursday ahead of its contest on Sunday. Gingrich will head to Illinois on Wednesday, which has a contest next Tuesday.