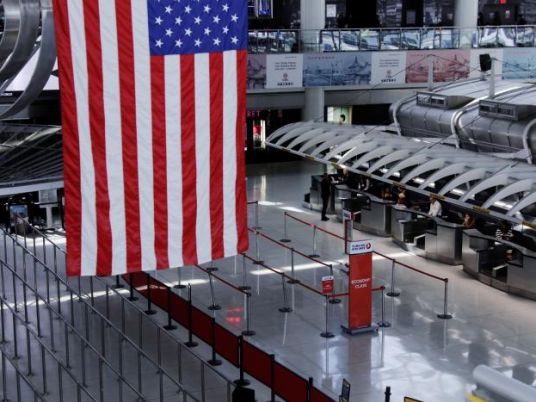 The United States and Britain on Tuesday imposed restrictions on carry-on electronic devices on planes coming from certain airports in Muslim-majority countries in the Middle East and North Africa in response to unspecified security threats.
The US Department of Homeland Security said passengers traveling from a specific list of airports could not bring into the main cabin devices larger than a mobile phone such as tablets, portable DVD players, laptops and cameras.
Instead, such items must be in checked baggage.
Although civil liberties groups raised concerns that US President Donald Trump was seeking another limit on movement after a travel ban from Muslim-majority countries was challenged in the courts, Britain took similar steps.
A spokesman for British Prime Minister Theresa May said there would be curbs on electronic items in the cabin on flights from six countries in the Middle East. The foreign office said the measures would be implemented by March 25.
The moves were prompted by reports that militant groups want to smuggle explosive devices inside electronic gadgets.
The ban would continue for the "foreseeable future," a US government official said on Tuesday, adding that it was possible it could be extended to other airports and other countries.
White House spokesman Sean Spicer declined to talk about the intelligence that prompted the new steps or explain why some countries were left off the list.
Senator Bill Nelson, a Florida Democrat, said he "spoke to the intelligence community over the weekend, and this is a real threat."
US officials say militant groups are known for innovative bomb designs, including embedding them inside computers. Yemen-based Al Qaeda in the Arabian Peninsula (AQAP) also has boasted of one of the world's most feared bomb makers, Ibrahim Hassan al-Asiri.
French and Canadian officials said they were examining their arrangements but neither government was taking additional security measures at this stage.
The airports covered by the US restrictions are in Cairo; Istanbul; Kuwait City; Doha, Qatar; Casablanca, Morocco; Amman, Jordan; Riyadh and Jeddah, Saudi Arabia; and Dubai and Abu Dhabi in United Arab Emirates.
The affected airports are served by nine airlines that fly directly from those cities to the United States about 50 times a day, senior government officials said.
The carriers — Royal Jordanian Airlines, EgyptAir, Turkish Airlines, Saudi Arabian Airlines, Kuwait Airways, Royal Air Maroc, Qatar Airways, Emirates and Etihad Airways — have until Friday to adopt the new policy, which took effect on Tuesday.
No US airlines are on the list because there are no direct flights on them between the United States and the cited airports, officials said.
Britain said its restrictions would apply to direct flights from Turkey, Lebanon, Jordan, Egypt, Tunisia and Saudi Arabia.
The British regulations affect British Airways, easyJet, Jet2, Monarch, Thomas Cook, Thomson, Atlas-Global, Pegasus, EgyptAir, Royal Jordanian, Middle East Airlines, Saudia, Turkish Airlines and Tunisair.
IAG-owned British Airways advised customers departing from affected airports to arrive in good time at check-in.
Shares in IAG turned lower after the UK announcement, with easyJet also ending the day in negative territory.
RECENT INTELLIGENCE
A US government source said that while the restrictions arose from multiple reports of security threats, some recent intelligence had arrived that prompted the current alert.
US authorities believe there is a threat from plots similar to an incident last year in Somalia, where a bomb hidden in a laptop blew a hole in the side of a plane but failed to down it, another source said.
However, some experts questioned whether the limited ban could improve security and said it is complicated by aviation safety concerns about lithium-powered batteries used in many electronic items catching fire in the hold.
Some potentially affected said the ban was unfair.
"Security for some people, and other people none? It's not for everybody, right?" said Mohsen Ali, an Egyptian who spoke to Reuters TV at New York's John F. Kennedy International Airport where he was waiting to meet a friend.
US officials said the decision had nothing to do with Trump's efforts to impose a travel ban on citizens of six majority-Muslim nations.
On March 6, Trump signed a revised executive order barring citizens from Iran, Libya, Syria, Somalia, Sudan and Yemen from traveling to the United States for 90 days. Two federal judges have halted parts of the ban although Trump has vowed to appeal.
While Democrats have criticized Republican Trump's travel ban, Representative Adam Schiff, the top Democrat on the House Intelligence committee, said he backed the new precautions as "both necessary and proportional to the threat."
However, human rights group Amnesty International said the restrictions raised "serious concerns that this could be yet more bigotry disguised as policy."
(Reporting by David Shepardson in Washington and Kylie MacLellan in London; Additional reporting by Yara Bayoumy, Mark Hosenball and Phil Stewart in Washington; Alexander Cornwell in Dubai, Victoria Bryan in London, Cyril Altmeyer in Paris and David Ljunggren in Ottawa; Writing by Alistair Smout; Editing by Jeremy Gaunt and Lisa Shumaker)