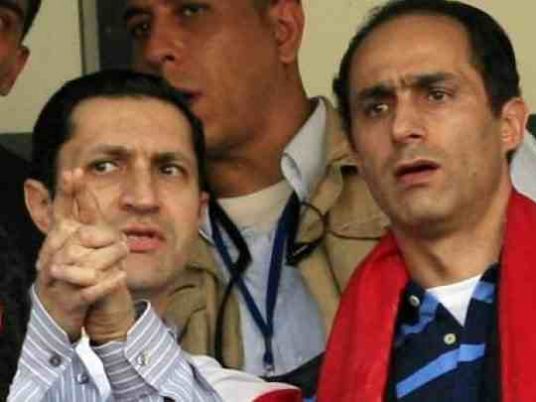 An Egyptian court on Monday ruled that former president Hosni Mubarak's two sons could be released from prison while awaiting an appeal for a case involving the theft of state funds, judicial sources said.
The case concerns charges that Mubarak and his sons Alaa and Gamal embezzled millions of dollars of state funds, using money intended to upgrade presidential palaces to instead renovate private family residencies.
Alaa and Gamal Mubarak were sentenced along with their 87-year-old father, who was toppled in a popular uprising in 2011 and now resides in a Cairo military hospital, to three years in prison in a re-trial of the case last May.
The court ruled on Monday that the Mubarak sons had already served the requisite time in prison for the sentence while awaiting the appeal process, which is continuing.
The two still face charges in two separate cases involving insider trading and illicit gains but will not be held in custody while awaiting trial, the judicial sources said.
Gamal and Alaa Mubarak were previously released in January after their convictions in the presidential palaces case were temporarily overturned. But they were taken back into custody after a court found them guilty in the May re-trial.
Gamal, a former investment banker and once a leading figure in Hosni Mubarak's now-dissolved National Democratic Party (NDP), was widely expected to succeed his father as president before the 2011 revolt.
The NDP was subsequently dissolved and several financial corruption cases were brought against the former president and his sons, most of which have since been dropped or overturned.