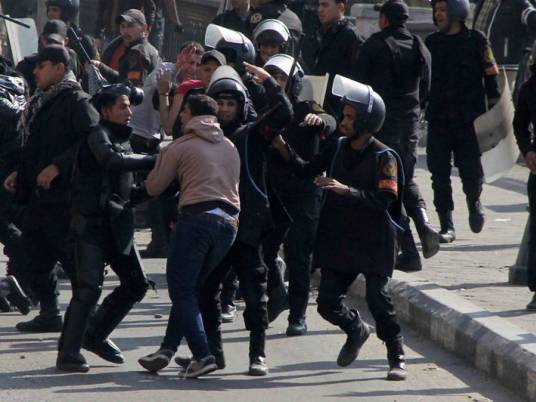 The Health Ministry confirmed the death of two protesters during clashes with police on the Nile Corniche nearby Qasr al-Nil Bridge in downtown Cairo on Saturday.
Mohamed Sultan, head of Egypt's Ambulance Authority told the privately-owned ONtv satellite channel that one of the victims passed away while being treated for suffocation from tear gas.
The other victim, according to the Health Ministry, is 20-years-old and died from a birdshot in his neck.
The families of both victims demanded from the police to take the dead bodies of their deceased sons, but the prosecution insisted that autopsies are conducted first. Protesters marched to the morgue where autopsies were to take place.
Meanwhile, one child had also reportedly suffered a bullet wound to the head during clashes on the Corniche downtown. Protesters were waiting on Saturday for ambulances to transport the victim to a hospital, while news spread that he was already dead.
Sultan said that ambulances had responded to nine more cases of suffocation during the clashes. Different Egyptian news outlets have reported birdshot being used during the clashes around the downtown Cairo area.
Dozens of protesters hurled stones at the Semiramis Intercontinental Hotel on the Corniche road until Saturday evening. State-run Al-Ahram newspaper reported on its website that protesters damaged the hotel's exterior and gates.
Others blocked traffic on the road to protest police officers' use of birdshot to disperse protesters. The liberal Wafd Party's official newspaper had reported that police were using birdshot to prevent protesters from storming the hotel.
Meanwhile, firefighters put out a small blaze at the Qasr al-Dobara school at Simon Bolivar Square. No causalities were reported.
The clashes had earlier erupted between protesters and police near the British Embassy on the Corniche amid widespread unrest in the city after the Port Said Criminal Court issued a verdict acquitting 28 defendants in the Port Said football massacre case, where 72 football fans were killed after a match between Cairo's Ahly club and Port Said's Masry turned violent last year.
Seven of those acquitted Saturday were police officers, and only two police officers were found guilty.
Ultras Ahlawy, of whom many were killed in the Port Said attack, had threatened two days ago to take retribution into their own hands if the court failed to bring the perpetrators of the massacre to justice.