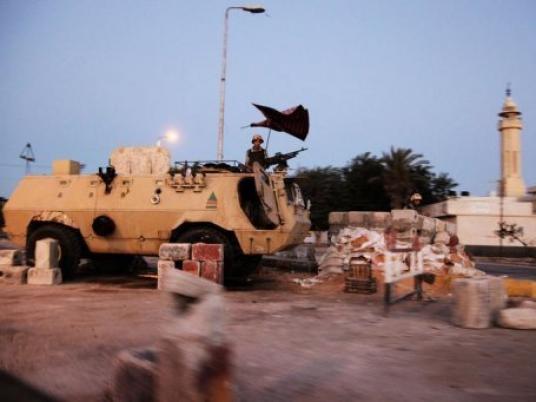 Seven security forces members and three passers-by were injured by gunfire Sunday when unidentified gunmen attacked the Sheikh Zuwayed Police Station in North Sinai.
Members of the security forces exchanged fire with the assailants, and eight of them were arrested.
The seven injured security members were taken to the hospital, security sources said.
The joint army and police forces security mission had been chasing armed militants in southern Sheikh Zuwayed using armored vehicles and a helicopter. The assailants then fired at security troops with automatic weapons and rocket propelled grenades.
Witnesses said they saw three SUVs loaded with automatic weapons chasing the security forces.
The clash came on the heels of another attack in Sinai, when unknown attackers fired RPG missiles at the North Sinai Security Department in Arish on Sunday, German news agency DPA reported.
Eyewitnesses told the agency that the attack was followed by a firefight between the department's snipers and the assailants, which lasted for one hour. A security source said the attack was a response to a police campaign that had led to the arrest of militants in the peninsula.
The same source added that no injuries or losses were reported.
The army's largest camp is located a few steps away from the security department under attack.
Al-Masry Al-Youm reported violent battles on Sunday between army forces and other unknown attackers in Moqata, North Sinai, adding that the army asked for air cover during the encounter.
Rayesa checkpoint was also attacked Sunday, and no injuries were reported.
The Armed Forces have been leading a security operation in Sinai which aims to track down militants in the region after an attack on a military checkpoint in Rafah on 5 August left 16 Egyptian soldiers dead.