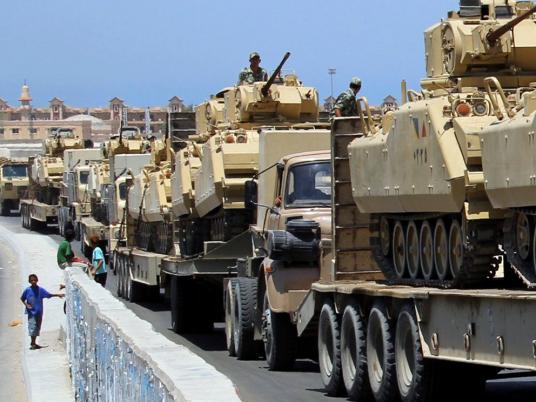 Seven people were killed and one was injured when an army-launched missile hit a gunman's house in al-Goura village in Northern Sinai Sunday morning.
The violence occured as army and police forces entered the village in search of criminal and terrorist suspects.
Security sources told Al-Masry Al-Youm that the targeted individuals possessed rocket-propelled grenades, automatic guns, and a large number of hand grenades, adding that they had exchanged fire with the army.
The incident happend amid a new spate of violence in Sinai Sunday, as armed men attacked UN peacekeeping troops and several Egyptian army checkpoints, and three Egyptian soldiers were killed in a car chase.
The Al-Ahram website reported that armed men fired on a checkpoint near the eastern entrance to Sheikh Zuwayed, on the Rafah-Arish international road. Eight armed men fired on another army position on the Arish-Ouja road. Eyewitnesses said army forces exchanged fire with the assailants before they fled into a nearby mountainous area after reinforcements arrived. Army forces and residents combed the area in search of the suspects.
Three soldiers were also killed and four security officers were injured when a police car overturned while chasing suspected criminals on the international road in central Sinai. It is unclear whether or not the police car was chasing suspecting assailants in the attacks.
Additionally, a group of armed men opened fire on UN peacekeeping troops near the border with Israel Sunday, according to state-run news agency MENA.
The latest round of violence comes days after the start of a military operation in the area against militants suspected of being behind a bloody attack that killed 16 Egyptian troops last Sunday.
Egypt sent hundreds of troops and armored vehicles into northern Sinai on Thursday to tackle militants operating near the border in an offensive that commanders said has so far killed 20 people.
The Egyptian army captured six people it considered "terrorists" in Sinai on Friday. A security source said three of them were later released.