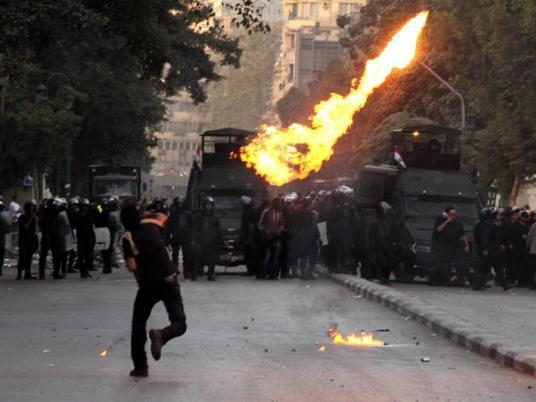 Security vehicles entered Tahrir Square from the Qasr al-Nil entrance at 2:30 pm Sunday, with CSF troops chasing protesters onto Qasr al-Nil and Bab al-Louq Streets firing tear gas before retreating to the Qasr al-Nil bridge.
Protesters are currently gathering again on surrounding streets, trying to find their way back to the Square.
Clashes between protesters and security forces had earlier reignited in front of the Arab League headquarters in Tahrir Square.
Protesters hurled stones at security forces, who responded with stones and tear gas in an attempt to chase them back into Tahrir. Several protesters and security personnel were injured.
However, calm prevailed on Omar Makram, Qasr al-Aini and Youssef al-Guindy Streets following clashes that raged overnight.
Traffic is once again moving on the Corniche. Police earlier arrested 12 protesters, and two more escaped by jumping into the Nile, after two armored vehicles chased protesters onto side roads, firing tear gas.
Additionally, a protester is in critical condition after being run over by a Central Security Forces vehicle in Abdel Moneim Riyadh Square underneath the 6th of October Bridge.
Violence has been ongoing throughout Egypt since Friday, when clashes broke out between protesters and security forces in several cities during marches commemorating the 25 January revolution that turned into protests against the Muslim Brotherhood.
Nine people have been killed, mostly in Suez, and at least 30 people have been killed in Port Said since Saturday, when more protests broke out after a court sentenced 21 defendants to death in the Port Said football violence case. The military has been deployed to both cities in an attempt to restore order.
In Cairo, protests still lingered in some locations. Protesters around Ettehadiya Palace in Heliopolis have decided to move their sit-in to Tahrir Square after security forces cordoned off the palace.
A source from the Cairo Security Department also said on Sunday that 90 suspects have been referred to the Public Prosecution for allegedly possessing Molotov cocktails.
Investigators allege that the suspects also took part in "looting" and "sabotage." Other suspects are still being interrogated at the Qasr al-Nil, Abdeen and Azbakeya police stations.
"Some of them were putting on black and white masks," the source added, possibly referring to the "anonymous" Guy Fawkes masks popularized by some protesters.
The source also said that some suspects had been referred to the Abdeen and Qasr al-Nil prosecutors, while claiming that police successfully secured Tahrir Square and the surrounding area, barring a few "sabotage actions."
Police also arrested two women residing in a building overlooking Qasr al-Aini Street after they were spotted filming the clashes, according to local media. Eyewitnesses claimed that police insulted and verbally abused the women while arresting them.
Meanwhile, Abdallah Fawzy, head of the Egyptian Company for Metro Management and Operation, told MENA that the metro was running normally, denying earlier reports that lines had been redirected or shut down due to sit-ins.
Edited translation from Al-Masry Al-Youm