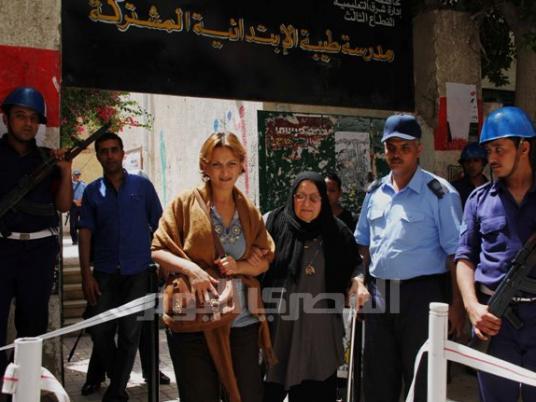 Hundreds of protesters demonstrated before the Public Prosecution's headquarters in Alexandria on Saturday to demand the release of 13 activists arrested during protests in front of a local police station.
Demonstrators chanted slogans against the Interior Ministry and the Muslim Brotherhood, chanting "down with rule of the [Muslim Brotherhood] supreme guide" and accusing police of targeting activists who expose their violations of the law.
The Free Egyptians Party and the Socialist Popular Alliance Party had called Saturday for a demonstration in front of the High Court at 5 pm to protest the detention of Mahinour al-Masry and 12 other activists in Alexandria.
In a Facebook post, the two parties said that the protest will be in solidarity with the activists.
Former MP Bassem Kamel said in a statement, "For whoever doesn't know Mahinour al-Masry, she is one of Alexandria's bravest revolutionaries. She played roles that men didn't do. She used to travel and collect money to pay for detainees' bails. She preferred to sacrifice for getting detainees released. We should stand by her and [the likes of her]."
The East Alexandria Prosecution is interrogating Masry and 12 other activists whom were arrested Friday on charges of damaging and attempting to storm the Raml Police Station and injuring several police personnel.
The other activists arrested in the case were Ranwa Youssef, Youssef Shaaban, Nasser Khattab, Mohamed Mamdouh, Mohamed Ezz al-Regal, Mohamed Ramadan, Salwa Beshir, Heba al-Sayed, Mohamed Mostafa, Mohamed Salem, Ihab Labib and Mohamed al-Maghraby.
Activist Naly Hussein said in a tweet that policemen sexually assaulted Youssef, and also arrested her husband.
Tahrir Doctors Association said activist Ranwa Youssef was sexually harassed, her clothes were torn before her husband, while being detained in Raml police station.
The Tahrir Doctors Association confirmed her reports, and in a statement on its website, the association called on prosecutors, the judiciary and ordinary Egyptians to help reform the security apparatus in Alexandria.
Dozens of protesters condemned the activists' arrests in a demonstration before the Alexandria court complex Saturday. Raising banners reading "down with the supreme guide's rule" and "Freedom for revolutionaries," protesters called for the detainees' immediate release.
Major General Amin Ezz Eddin, Alexandria's security chief, claimed 12 policemen were injured while defending the police station from attack Friday.
Ezz Eddin added Saturday that around 200 people had gathered in front of the police station Friday after a clashes between three Freedom and Justice Party activists and three Dostour Party members after a member of the latter group filmed the FJP members.
He said that all of those involved in the altercation were ordered released by the Public Prosecution, but that hundreds of protesters gathered in front of the police station, believing that they were still being held.
Edited translation from Al-Masry Al-Youm