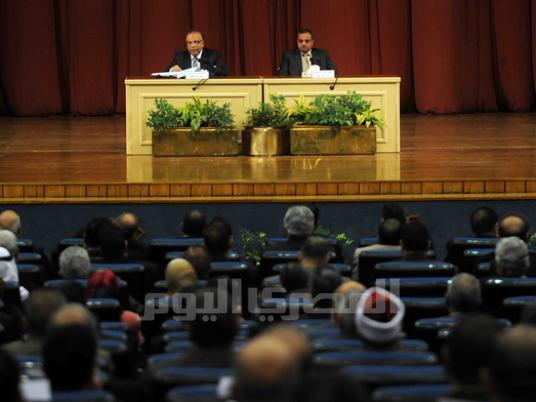 People's Assembly Speaker Saad al-Katatny announced on Tuesday night the names of the Constituent Assembly members who would draft Egypt's new constitution.
Katatny said that 575 Parliament members voted out of 678 members from both houses of Parliament, an 84.8 percent participation rate. He said that 17 ballots were invalid, leaving 558 votes to determine the makeup of the assembly.
In his statement, Katatny only listed the assembly member's names without including any information about their positions and backgrounds.
Among the other members named were Freedom and Justice Party Deputy Secretary General Osama Yassin and FJP Secretary General in Giza Amr Darrag. Engineers Syndicate head Maged Kholousy and Doctors Syndicate head Khairy Abdel Dayem, both of whom won their respective syndicates' elections on lists backed by the Muslim Brotherhood, have also been selected.
Other Muslim Brotherhood members on the assembly include FJP deputy head Essam al-Erian, FJP leaders Mohamed al-Beltagy and Hussein Ibrahim al-Qadi, FJP MPs Sobhi Saleh, Ali Fath al-Bab, Khaled al-Azhari, Farid Ismail, Taher Abdel Mohsen and Ahmed Diab, and Muslim Brotherhood Guidance Bureau members Abdel Rahman Abdel Bar, Mohamed Ali Bishr and Mahmoud Ghozlan, who also serves as the Brotherhood's spokesperson.
Members from the Salafi Nour Party include Nour Party spokesperson Nader Bakkar, Nour Party head Emad Abdel Ghafour, and MPs Talaat Marzouk and Mohamed Ahmed Ata.
Islamist legal thinker and former presidential candidate Mohamed Selim al-Awa, former Grand Mufti Farid Wasel, and Wasat Party head Abul Ela Mady, a former member of the Muslim Brotherhood, have also been chosen.
Also included are Salafi Sheikhs Shaaban Darwish and Mohamed Hassan, head of the Salafi Dawah Yasser Borhamy, Mohamed Emara of Al-Azhar's Islamic Studies Institute, and Deputy Patriarch of the Catholic Church Yohana Kaltah.
Lawyers Syndicate head Sameh Ashour, Journalists Syndicate head Mamdouh al-Wali, Supreme Judicial Council head Hossam al-Gheriany, and head of the Administrative Prosecution Taymour Kamel are also on the assembly.
Other members selected include April 6 Youth Movement founder Ahmed Maher, actor Ashraf Abdel Ghaffour, Nubian activist Manal al-Tibi, and poet Farouk Gweida.
Ghad al-Thawra Party head Ayman Nour and former presidential candidate Amr Moussa will also be on the assembly.
Katatny said that the first session of the assembly would be held this week and that he will announce the time and location of the session in the coming days. He said that any appeal against the composition of the assembly will be respected, adding that Parliament respects the judiciary and its verdicts.
The Constituent Assembly's makeup resembles that which was publicized earlier Thursday by Freedom and Justice Party MP Mahmoud Amer, who told Egypt Independent that the list he announced was agreed upon by his party and the Nour, Asala, Civilization and Wasat parties.
The list announced by the FJP includes 33 members from eight political parties. Seven members would be women and seven would represent the youth and those injured during the 25 January revolution. Ten Islamic scholars would represent Al-Azhar and other Islamic bodies, while eight assembly members would represent Copts — four from different churches and four from political movements and public figures.
Twenty-eight legal experts would be on the assembly: six would come from different judicial authorities while the rest would be deans of law schools, professors of constitutional law, and former and working judges.
Thirty university professors would sit on the assembly, including the head of Al-Azhar University in Minya, the dean of the Ausol al-Din (Fundamentals of Religion) School in Mansoura, and the dean of the Monufiya University Law School.
Ten members would be writers and intellectuals, and seven would come from professional syndicates, with one each from the Lawyers, Journalists, Teachers, Actors, Engineers, Doctors and Pharmacists Syndicates. Four members would represent trade unions and farmers unions and one would represent Egyptian expatriates.
A committee made up of members of the People's Assembly and the Shura Council began the vote counting process after members of both houses voted on the nominees for the Constituent Assembly during their joint meeting on Tuesday. The committee was headed by Independent MP Mahmoud al-Khodairy, head of the People's Assembly's Legislative Committee.
Wafd Party head Al-Sayed al-Badawy issued a decision to freeze the membership of six Wafd Party MPs after they abstained from voting for the Wafd Party Constituent Assembly candidates.
Badawy referred the six MPs to Wafd's Executive Office in accordance with Article 5 of the party's internal bylaws. The parliamentarians in question are People's Assembly members Yasser Barakat, Tariq Sabaq, Margaret Azer and Nabil Mutawei, and Shura Council members Mohammed Hashish and Mervat Obeid.
The remaining 51 Wafd Party MPs voted for the party's candidates.
Edited translation from Al-Masry Al-Youm