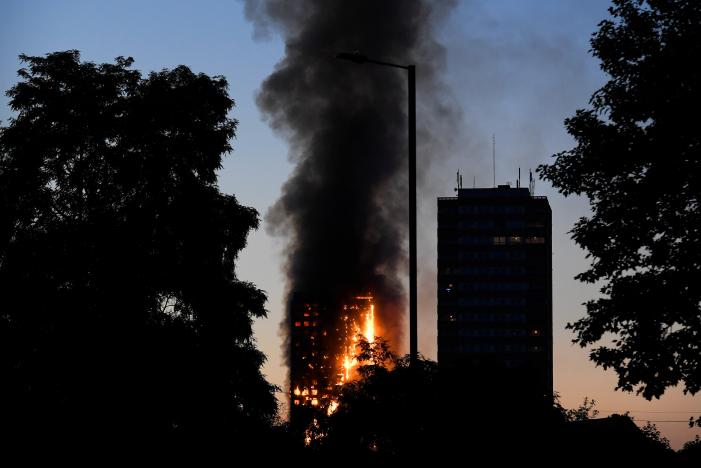 The death toll in a fire that ripped through a 24-storey block of flats in London rose to 17 on Thursday, with many people still missing and firefighters facing hazardous conditions as they searched the charred wreck.
Smoke was still wafting out of the shell of the Grenfell Tower on Thursday, and a Reuters cameraman saw a big piece of building cladding fall from the building.
Fire engulfed the social housing block in the early hours of Wednesday, turning it into a flaming torch in minutes.
"Sadly I can confirm that the number of people that have died is now 17," London police commander Stuart Cundy told reporters.
He said that number was expected to rise and firefighters have said they did not expect to find any more survivors after rescuing 65 from the inferno. Thirty-seven people remained in hospital, with 17 of them in critical care.
"Our absolute priority for all of us is identifying and locating those people who are still missing," Cundy said before declining to comment on speculation about the likely final death toll: "It would be wrong for me to get into numbers that I do not believe are accurate."
London Fire Brigade chief Dany Cotton said urban search units backed by specialist dog teams would scour the building as structural surveyors helped make the tower safe.
The cause of the blaze, the worst in the British capital in a generation, was being investigated. Speaking within weeks of London's deadliest attack by militants in more than a decade, Cundy said nothing suggested the fire was linked to terrorism.
Prime Minister Theresa May, who has promised an investigation into the disaster, visited the scene on Thursday to meet members of the emergency services, but left without making any public comment.
Local residents say there had been repeated warnings about the safety of the building, which recently underwent an 8.7 million pound ($11.1 million) exterior refurbishment, which included new external cladding and windows.
Planning documents detailing the refurbishment did not refer to a type of fire barrier that building safety experts said should be used when high-rise blocks are being re-clad, according to Reuters research.
Queen Elizabeth said her thoughts and prayers were with those families who had lost loved ones and with the many people still critically ill in hospital. She also paid tribute to the bravery of firefighters who risked their lives to save others.
"It is also heartening to see the incredible generosity of community volunteers rallying to help those affected by this terrible event," the queen said.
OUTPOURING OF SUPPORT
Survivors, many of whom lost all their belongings in the blaze, spent the night at emergency shelters, as charities and local support groups were flooded with donations of clothes and bedding from shocked Londoners.
Piles of shoes, clothes, duvets and other items accumulated in several spots where volunteers were sorting them. The local authority, the Royal Borough of Kensington and Chelsea, thanked donors but said it could not take any further donations.
The singer Adele was among many Londoners who gathered close to the burnt tower late on Wednesday to show sympathy for the victims and survivors.
The queen's grandsons, Prince William and Prince Harry, along with William's wife Kate, donated to a relief fund organised by London's local Evening Standard newspaper.
The fire brigade said the fire was unprecedented in its scale and the speed of its spread.
The tower, built in 1974 in North Kensington, an area of west London, contained 120 flats and was thought to have been home to about 600 people.
Accounts emerged of people trapped inside as the blaze destroyed everything around them, shouting for help and trying to escape through windows using makeshift ropes from bed sheets tied together.
By Thursday morning, there was no sign of life in or around the blackened hulk. Security cordons were in place around the base of the tower and the ground was littered with charred debris.
Outside the cordons, impromptu tributes appeared with photos of missing people, messages of condolences, flowers and candles.
Emergency services said it was too early to say what had caused the disaster. Some residents said no alarm had sounded. Others said they had warned repeatedly about fire safety in the block.
Reporting by Alistair Smout and Estelle Shirbon (London); Additional reporting by Kate Holton, Michael Holden and Costas Pitas; Writing by Estelle Shirbon; Editing by Hugh Lawon; Reuters