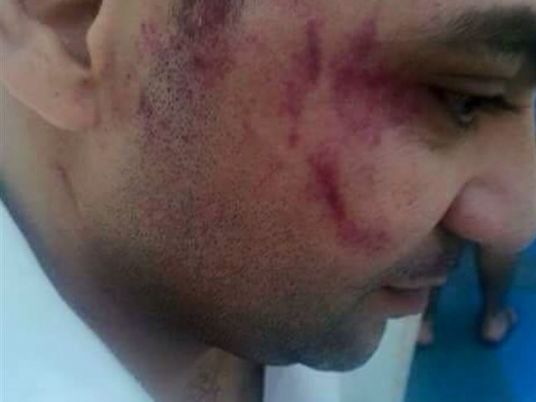 Egypt's ambassador to Egypt, Khaled Tharwat, has told Al-Masry Al-Youm that following a conversation with Jordanian authorities, including the country's parliament speaker, the three Jordanian brothers who repeatedly slapped an Egyptian waiter at a restaurant in the city of Aqaba have been arrested.
Tharwat said he was in contact with Jordanian MPs and the minister of manpower, all of whom condemned MP Zaid Shawabkeh's actions.
Tharwat said that nearly 60 Egyptians had rallied outside the embassy to demand immediate legal action, as approximately 650,000 Egyptians currently work in Jordan.
This action was taken after a video recording of an Egyptian waiter being assaulted at a restaurant in Aqaba by a Jordanian MP, caused an uproar both in Egypt and Jordan, prompting the Egyptian Foreign Ministry to declare legal action.
The attack, which was caught by security cameras at the restaurant and circulated among social network users, shows three people rebuking the waiter, Khaled Othman, before each of them slapped him. The Egyptian worker remained calm throughout.
Gerasa News website, which published the video, said the assailants were Jordanian MP Zaid al-Shawabkeh and his two brothers, adding that the incident may have taken place last Thursday.
"The MP's brother had come to the restaurant and ordered food," Othman said to Al-Masry Al-Youm from a hospital in Aqaba. "'Why are you being so haughty? Go get the order like a dog,'" Othman quoted the guest as ranting at him, noting that the guest's tone indicated he was "dealing with him like an insect". He added that the guest was angry that waiters were not rushing to deliver his order.
Othman said that though he did not engage in an altercation with the Shawabkeh, the latter came back the next day with his brothers.
"'You are a stranger, you should respect this country and its people,'" Othman quoted his assailants as telling him.
In a phone call with Al-Masry Al-Youm, Egypt's ambassador to Jordan, Khaled Tharwat, said the Egyptian consul visited Othman at the hospital, adding that a consulate lawyer was tasked to take legal action against the suspects involved in the incident.
The incident also caused fury among Egyptian labor bodies. Ibrahim Geneina, who heads an association of Egyptians in Jordan, said the association "does not accept the insult to the Egyptian worker", wondering "how could a person representing the people assault a defenseless employee?".
Edited translation from Al-Masry Al-Youm