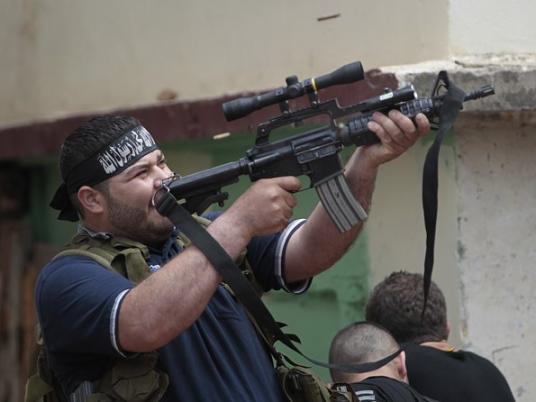 Four Gulf countries — Bahrain, Qatar, United Arab Emirates and Saudi Arabia — urged their citizens to stay away from Lebanon, citing security concerns in a country where fighting prompted by sectarian tensions in neighboring Syria has unsettled areas near a northern port.
Saudi Arabia has ordered its citizens to leave Lebanon immediately, citing fear of kidnappings by Shias angry over rebels in Syria taking prisoners from Lebanon and Iran. The country's official news agency said Riyadh's embassy in Lebanon had "called on Saudi citizens currently in Lebanon to leave immediately given the latest developments in Lebanon and the appearance of some explicit threats to abduct Saudi citizens and others."
Tourists from Gulf States form the bulk of the wealthy visitors to Lebanon, whose vital tourism industry has been hit hard by unrest in neighboring Syria.
Saudi Arabia's ambassador to Lebanon last month warned Saudis to stay away from Lebanon's border areas, after two Saudi citizens were kidnapped and tortured for eight days, before being freed in a joint Saudi-Lebanese operation.
Gunmen from a Lebanese Shia clan kidnapped more than 20 people on Wednesday, including a Turk, a Saudi and several Syrians, in retaliation for the capture of one of their kinsmen in Syria's capital Damascus.
The incident, in an area of Lebanon controlled by Hezbollah Shia militants, raised the risk that the sectarian violence driving the conflict in Syria will spread to its neighbor, which fought its own civil war on sectarian lines for 15 years.
The mass kidnapping was accompanied by threats to seize more citizens of countries that have backed the uprising against Syria's president Bashar al-Assad.
Members of the Meqdad clan, one of Lebanon's powerful Shia families, said the kidnapping was retaliation for the capture of kinsman Hassan al-Meqdad by the rebel Free Syrian Army in Damascus two days ago.
They said their hostages included a Turkish businessman, a Saudi and several Syrians they described as rebel fighters.
In remarks to Lebanon's National News Agency, Hassan al-Meqdad's brother Hatem said "the snowball would grow," and warned "Qatar, Saudi Arabia and Turkey and their citizens."
Qatar, Saudi Arabia and Turkey are all led by Sunnis and strongly support the mainly Sunni Muslim rebels fighting Assad.
The Syrian conflict has polarized Lebanon, with its Sunnis mainly supporting Syria's rebels, while Shias, including the powerful militant group Hezbollah, mainly backing Assad, a member of the Alawi minority sect, an offshoot of the Shia sect.
The appearance of masked gunmen on the streets conducting mass abductions brings back memories of Lebanon's 1975-1990 civil war, when the country was divided by Sunni, Shia, Christian and Druze militia. Kidnapping became common during the conflict, and some of those taken were never found.
A diplomat said the Turkish businessman had been kidnapped shortly after arriving in Lebanon on Wednesday.
"He was here for business, arrived today, and was kidnapped near the airport," the source said, adding that there was little progress so far in negotiations to secure his release.
Air France diverted one of its planes to Amman from Beirut on Wednesday evening for "security reasons" after the kidnappings, a spokeswoman in Paris said. The road from the airport into central Beirut has regularly been blocked by families of Lebanese hostages held in Syria.
The Lebanese news channel Al Jadeed was given access to the Turkish hostage, who said he had been treated well.
In a video broadcast by Al Mayadeen, a Lebanon-based TV station, two of the Syrian hostages were shown in the custody of masked gunmen from the Meqdad clan wearing green fatigues and armed with automatic rifles.
Clan member Maher al-Meqdad said the detained Syrians included a lieutenant who had deserted from Assad's army to join the rebels, while those who were not FSA members had been freed. He gave no details of the abduction.
One of the detainees, shown looking tense in a room full of gunmen, identified himself as a captain by the name of Mohamed, and said his role was to help supply the FSA. The other man said he was his assistant.
The rebels in Damascus had accused their captive, Hassan al-Meqdad, of being sent to Syria by Hezbollah to aid Assad. Hezbollah has been one of Assad's regional allies for decades.
Threats
Lebanese Prime Minister Najib Mikati condemned the kidnappings.
"The kidnappings that happened in Beirut today are unacceptable. This is not an appropriate way to solve the kidnapping of a Lebanese citizen in Syria and brings us back to the days of the painful war, a page that Lebanese citizens have been trying to turn," he said in a statement.
Maher al-Meqdad said his kinsman had travelled to Syria more than a year and a half ago, before the outbreak of the uprising, and had no links to the fighting in Syria.
"We don't care what is happening in Syria. We respect the will for democracy. We just want our son to come back to Lebanon safely," Maher al-Meqdad said.
The abductions on Wednesday happened in an area controlled by Hezbollah, a fact certain to lead to questions over whether the Shia militant group authorized the clan's operation.
Lebanon's Sunni mufti, Malek Shaar, called for an urgent meeting on Wednesday night to try to prevent a security breakdown, Al Mayadeen said.
A group of masked gunmen speaking to journalists in the Hezbollah-controlled Dahiya neighborhood, who called themselves the "military wing" of the Meqdad clan, threatened more action if their relative was not released.
"We still haven't even done one percent, we still haven't really moved," said a man in a black mask holding a machinegun.
"Anyone from the FSA in Lebanon who tries to violate our rights over the Hassan Meqdad issue will be held to account by us, as well as any political group or sect that has joined it."