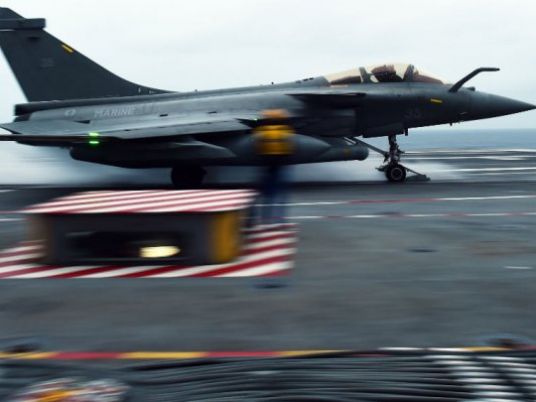 French President Francois Hollande said Egypt would order 24 Rafale fighter jets, a naval frigate and related military equipment in a deal to be signed in Cairo on Monday worth more than 5 billion euros ($5.70 billion).
The contract would make Egypt, aiming to upgrade its military hardware amid fears the crisis in neighbouring Libya could spill over, the first export customer for the warplane, built by Dassault Aviation.
It follows years of failed attempts by France to export the plane.
"The Rafale fighter jet has won its first export contract," Hollande's office said in a statement.
"The Egyptian authorities have just let me know their intention of acquiring 24 Rafale planes, a multi-mission frigate as well as related equipment." The latter items consist of a Fremm warship and MBDA air-to-air missiles.
Hollande, in Brussels for a European Council meeting, added that the sale accord would be signed in Cairo on Monday by Defence Minister Jean-Yves Le Drian.
The contract would be the first overseas for the Rafale, 14 years after it entered service and three years after Dassault Aviation entered exclusive negotiations to sell 126 of the combat jets to India.
Delays in finalising the Indian contract are expected to be discussed at a major Indian air show starting on Feb. 18.
Dassault is also in negotiations to supply the Rafale to Qatar and under increasing pressure to sell the plane overseas.
The French government said last year it would slow the pace at which it takes delivery of Rafale jets, to just 26 over the next five years instead of 11 a year.
Paris and Cairo have enjoyed close economic ties in the past but turmoil in the north African state since President Hosni Mubarak was overthrown in 2011 left Western governments wary of signing deals, especially in defence.
With the rise to power of Sisi, ties have improved. Both sides are concerned by the rise of jihadist groups in Libya and Egypt.
France secured its first major military contract in Egypt in about 20 years in 2014 with a 1 billion-euro ($1.35 billion) deal to sell four naval frigates.
The Fremm is built by state-controlled DCNS, which is 35 percent owned by French group Thales. MBDA is a venture of Airbus Group, Britain's BAE Systems and Finmeccanica of Italy.