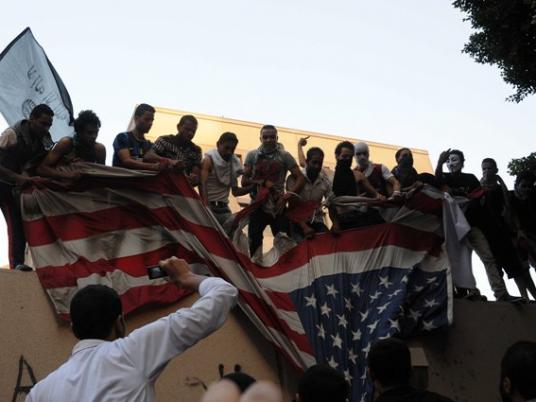 Security forces in Cairo arrested Wednesday four protesters accused of storming the US embassy during demonstrations decrying an American movie deemed insulting to the Prophet Mohamed. State-run MENA news agency said that police referred those arrested to the Qasr al-Nil prosecutor's office for investigations. It added that the police are still searching for other suspects in the case.
The area outside the US Embassy in Cairo was calm on Wednesday following a night of protests.
Hundreds of demonstrators scaled up the embassy's walls and pulled down the American flag. Clashes with security forces ensued. Although the film was privately produced by an Israeli filmmaker living in California, according to several major news organizations, the protesters demanded that relations with the United States be severed.
The embassy's website announced late Tuesday that visa services had been suspended due to the instability and that delays were expected in the delivery of passports.
Seven armored vehicles were stationed along Simon Bolivar Street leading to the embassy as well as behind the building, while 25 Central Security vehicles guarded the main gate Wednesday.
A small group of demonstrators remained overnight, saying they would stage a sit-in and wait for comment from the US State Department on the film. The protesters also said another demonstration is planned for Wednesday afternoon.