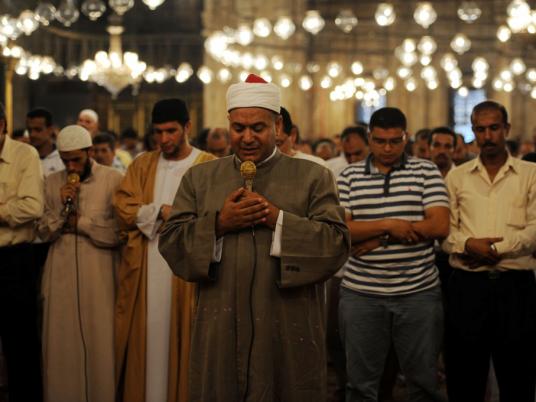 Friday sermons on the day before the last round of voting veered towards the political, sometimes provoking outrage among the congregation.
In Ismailia, clashes broke out in the Sheikh Zayed Mosque when Sheikh Mohamed Farouq attacked opponents of the draft constitution in his sermon, suggesting that they were liars.
Members of the congregation began chanting slogans against Farouq, and some of them attempted to attack the preacher. When other worshippers stopped them, fights broke out among the congregation.
The sermon was paused for 10 minutes when a funeral arrived at the mosque, causing the clashes to stop. Farouq then completed the sermon and prayers took place. After the prayers were over, some fighting broke out outside of the mosque.
Earlier on Friday, dozens of protesters against President Mohamed Morsy rallied outside the Al-Hamd Mosque, located in an affluent suburb just outside of Cairo, after Friday prayers. Rival protesters in support of Morsy also gathered there, chanting slogans for the president.
The mosque's imam, Sheikh Abdel Rahma Yaqoub, said that assigning the president titles like "Highness and Excellency" does not contradict Islam. The Prophet Mohamed said people should be addressed according to their favored titles, and international organizations approve such titles, he added.
In a previous sermon, some worshippers had objected to referring to Morsy as "his Excellency," saying it was not religious.
Praying for the president is a desirable and mandatory action, Yaqoub added.
During the Friday sermon the sheikh prayed for Morsy, saying the Prophet Mohamed had ordered the faithful to do so. He called on his fellow sheikhs to encourage people to participate in the constitutional referendum.
The incident recalls a similar one that occured on 30 November, when the congregation of the Hassan al-Sharbatly Mosque in New Cairo protested against Morsy as he attended prayers there. When the imam of the mosque attempted to defend Morsy's actions, the congregation interrupted him, protesting against his comparison of the president to the Prophet, and chanted "Down with the rule of the supreme guide."
Edited translation from Al-Masry Al-Youm