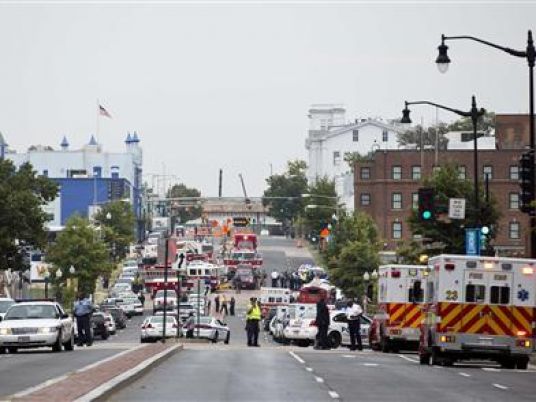 Dozens of students affiliated to the Students Against Coup movement, founded by the Muslim Brotherhood, staged a march at Cairo University campus demanding the release of their detained colleagues and retaliation for those killed in recent incidents between supporters of ex-President Mohamed Morsy and security.
Students shouted slogans against the military and Defense Minister abdel Fattah al-Sisi. They also raised the Rabaa al-Adaweya logo.
Meanwhile, the university security imposed a cordon around the pro-Brotherhood students to prevent violence between them and others supporting the military in university. Pro-Brotherhood students staged protests on the Faculty of Engineering campus demanding the release of their detained colleagues. Others set up an exhibition before Dar Eloum where they showed pictures and videos of students killed during the recent violent incidents. University security allowed speakers and projectors to be used in these exhibitions.
Faculty of Commerce students affiliated to the Muslim Brotherhood formed human chains and called on the administration to release the detained students and faculty members.
In related news, Zagazig University security arrested on Wednesday Morsy's nephew Abdullah al-Sayyed Morsy and 11 other students affiliated to the group after they attacked classes at the faculties of commerce, arts and law.
Around 400 pro-Brotherhood students closed the university's main entrance and shouted slogans against the military and the coup, hampering classes and provoking other students to chant slogans against the Muslim Brotherhood. Clashes then erupted when security intervened to separate the two groups.
Female students affiliated to the Brotherhood broke into classes at the Islamic studies faculty and forced professors out after shouting slogans against the military coup.
Faculty Dean Amal Kamal referred four students to the disciplinary board for hampering study. Seven other students from the faculties of religion and Arabic were referred to the disciplinary board for the same reasons.
Edited translation from Al-Masry Al-Youm