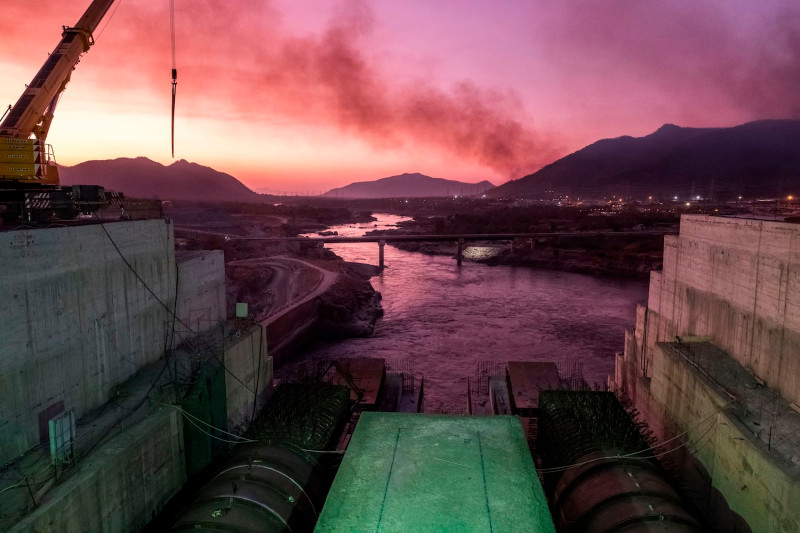 A top-ranking delegation from the Emirati Ministry of Foreign Affairs has finished a one-day-visit to Sudan, aimed at bringing an end to the standstill around negotiations regarding the Grand Ethiopia Renaissance Dam (GERD) between Sudan, Egypt, and Ethiopia, said Sudan News Agency (SUNA) on Wednesday.
SUNA quoted an informed source, saying, "The Emirati delegation met Sudanese officials in ministries of foreign affairs, irrigation and water resources, hearing detailed explanation on Sudan's stance."
The Emirati initiative, whose details are still vague, has not yet been launched upon a request from Sudan.
The delegation's visit comes as Egypt, Ethiopia, and Sudan enter another deadlock in negotiating the filling and operation of the dam.
Khartoum has called for a change in the negotiation methodology, granting the African Union experts a greater role to bring the views of the three countries closer.
The construction of the dam, which began in 2011, is considered to be one of Egypt's most serious water issues.
Egypt, which relies considerably on freshwater from the Nile, has voiced fears that the GERD would negatively impact the country's water supply, and has insisted that measures be put in place to protect downstream countries in case of drought during the dam's filling process.
Ethiopia, on the other hand, has stressed the importance of the project to bolster its economy, where more than half of the population currently lives without access to electricity.
Sudan is somewhat caught in the middle of the conflicting interests of Egypt and Ethiopia. There is potential for the country to develop further with the GERD's operation, but government officials worry that it could also threaten preexisting dams.
IMAGE: A general view of the Blue Nile river as it passes through the Grand Ethiopian Renaissance Dam (GERD), near Guba in Ethiopia, on December 26, 2019. EDUARDO SOTERAS/AFP VIA GETTY IMAGES