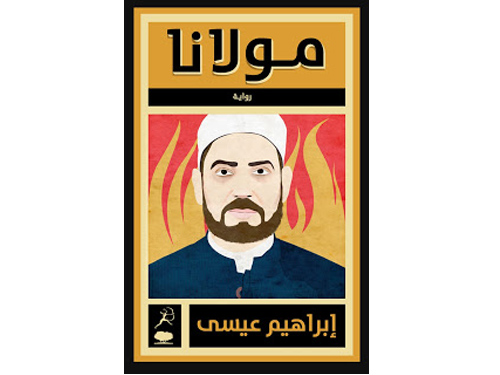 If you've ever watched Ibrahim Eissa's political talk show on television, then you would know what to expect from his latest novel, "Mawlana" ("Our Sheikh"). Long-listed for the 2013 International Prize for Arabic Fiction, the novel — published in 2012 by Bloomsbury Qatar Foundation— is true to the controversial approach of its talk show host.
"Mawlana" delivers a double dose of wit, humor and political satire, combined with painstaking knowledge of religion and the media world.
Hatem Shinawy is an unconventional sheikh, not only because he boasts a modern appearance that contrasts with his pious knowledge, but also because he combines humor and wit with his fatwas and preaching during his regular appearances on television. And perhaps this is what makes him irresistible; readers are captivated by his gripping story as he rises to stardom and wealth, and as he later almost falls to his demise when he falls out of favor with the authorities.
The sheikh's popularity and fame have come at a high price. The secret to Shinawy's magnanimous success is that he tells his audiences what they — and the authorities — want to hear.
However, the revered sheikh is not at peace with his decision; he is all too aware of his own hypocrisy. But despite his ever-present sense of shame, he is not willing to give up the fame or money his hypocrisy has garnered him.
The result is an inner conflict that he calls "losing his soul."
Eissa says there is a "space between his soul and his body," and "the illusive division" between the two is triggered by the flashing red light that denotes that he is on air. However, as Shinawy himself realizes, his red light is seemingly always flashing, as he is constantly performing for people wherever he goes.
In fact, he is performing when we first meet him: The red light is on, and he is on top of his game. From there, the storyline follows a linear plot, littered with a few interruptions jumping forward, or with some flashbacks to Shinawy's childhood or youth. A number of characters are also introduced with a great deal of detail that seems superfluous.
Eissa is a master of the Arabic language, and he is happy to put his linguistic capabilities on display in some particularly wordy segments. The result is that reading the first hundred pages of the book is quite slow, especially when compared to the gripping thriller that the novel becomes later on.
Events take a captivating turn once Shinawy is chosen by the country's ruling family to help solve a religious ordeal relating to one of its members. And it is only with the appearance of characters like Hassan, the prospective convert to Christianity, and Nashwa, hired by the state security to seduce the sheikh, that Shinawy's real soul emerges.
His tireless debates with both, which still contain his same humor and wit, but without the hypocrisy, reveal the learned yet progressive Islamist he truly is.
The unholy trinity of religion, the media and the security institutions are at the heart of Eissa's novel. Building, perhaps, on his personal knowledge of the politics of satellite channels and state security, Eissa shows how deeply intertwined they are.
Religion ceases to be independent from politics once it enters the sphere of the media; it becomes merely a tool in the hands of politicians used to sway the masses. Eissa takes his critique a step further, showing that men of religion themselves, politics aside, are so entrenched in the dogmatic approach to religion that they end up missing its true essence.
In "Mawlana," Shinawy is contrasted with these close-minded sheikhs in his positions on the persecution of Copts and the demonization of Shia, both of which he claims to be politically motivated, as well as the rights of women in Islam. He chooses to keep these controversial stances to himself for the most part, yet as the novel moves forward, they seem to be stronger than his self-censorship.
At few but decisive moments in the story, when the sheikh has unwittingly fallen out of the authorities' favor, his real soul shines through, even though the red light is on and although this may cost him his cherished fame, livelihood and even freedom.
But hypocrisy is not the only weakness he has to struggle against. There is his quasi-affair with Nashwa, reminding readers that sheikhs are indeed, as Eissa says, more human than divine. Following a long period of coldness with his wife Omaima, Shinawy falls all too easily into the trap of Nashwa, set up for him by the state security. The young beauty, claiming to be a fan and a devout student of Islamic studies, seduces the man of God and steals important documents from him.
Nashwa and Omaima — along with the minor appearance of a sex-crazed widow who seduces Shinawy as a budding teenager — are the only female characters worth mentioning. Although Shinawy's wife and mistress assume a demeanor of piousness, their actions indicate the contrary. They are depicted as either materialistic, unfaithful, liars, neurotic or pedophiles.
Yet Eissa has made his main character to show sympathy for women's perceived inferior status in Islam, and to even forgive the wrongdoing against him by the women in his life. Shinawy reminds his sinning wife of the Prophet's saying, "If mankind did not sin, God would replace it with one that did." As if in confirmation of this, Eissa refrains from either demonizing or idolizing any of his characters — even the most villainous of them.
Eissa has weaved the fascinating personal tale of his sheikh into a context that seems inspired by real life. Some of the characters — such as the power-crazed, arrogant son of the president — and events, such as the gruesome bombing of a church, cannot be entirely fictitious.
Therefore, Eissa's story about the deeply rooted and widespread corruption in the country's different sectors can be seen as a run up to the revolution that broke out in Egypt two years ago.
Since Eissa has left the novel open-ended, right after the church bombing, which in real life took place a few weeks before the eruption of the revolution, the question is: Is there a second part?
And if so, would our Sheikh Shinawy continue to perform, or will he say what he truly believes in? If he decides to perform, given the radical changes in the political landscape, whom would his performance aspire to please?
This piece appears in Egypt Independent's weekly print edition.
Correction: This article incorrectly stated that "Mawlana" was published by Bloomsbury Qatar. The publisher is Bloomsbury Qatar Foundation.