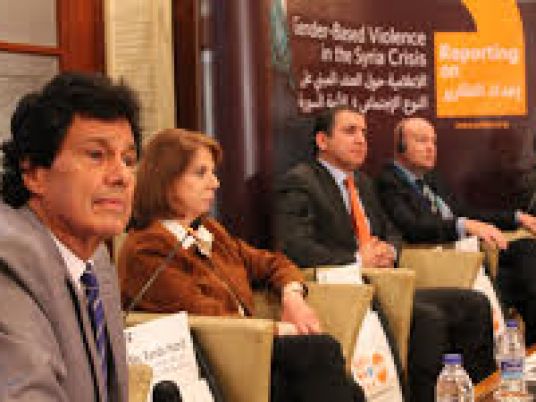 United Nations Population Fund (UNFPA) launched on Monday a journalistic handbook entitled "Reporting on Gender-Based Violence in the Syria Crisis", which targets better understanding to the Gender-Based Violence (GBV) issued in order to present responsible covering that conforms to the society as well as sensitivity of such cases.
In a ceremony, which was sponsored by Her Royal Highness Princess Reem Ali, she confirmed the great role played by media in shaping the society. "Journalists have an important role to play in preventing and responding to violence and advocating for women rights. They have a professional obligation to seek and report the truth at the same time an ethical obligation to minimize harm."
Daniel Baker, UNFPA Regional Humanitarian Advisor on behalf of Dr. Babatunde Osotimehin, the UNFPA Executive Director, said "The media can amplify Syrian women's voices, counteract myths, and stimulate dialogue and action."
In a report issued on Monday, UNFPA said that the fund aims at delivering an approach that is based on protecting the survivors, confronting gender-based violence and assisting media to highlight such cases as well as violations against human rights, which will result in more support to those who survived the gender-based violence.
The handbook includes several advices to journalists on informing about the gender-based violence within the Syrian crisis, writing reports that are based on internationally-recognized ethics. It also hints to techniques that should be followed to guarantee secrecy and dignity of the survivors, families and societies.
It was developed by the fund in collaboration with group of journalists and experts in the field of the gender-based violence and financed by the United Kingdom's Department for International Development (DFID).
The handbook will be distributed among the six countries affected by the Syrian crisis to be used in training journalists.
"We believe that journalists have a very powerful role in raising awareness and fighting GBV, because they not only report but also help shape public opinion and perceptions," Baker added.