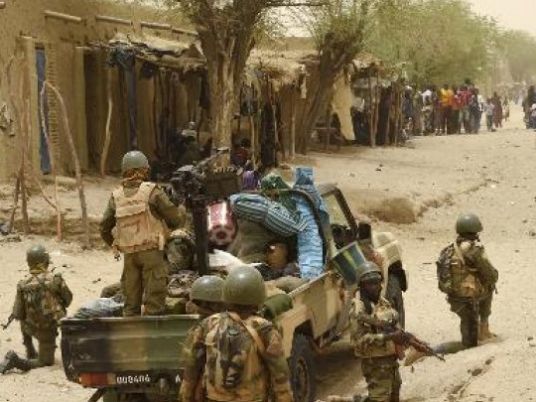 Only the poor, old and sick have stuck around, holed up at home, trembling at the slightest noise, in the once-thriving Malian settlement of Bintagoungou, now little more than a ghost town.
The village to the west of Timbuktu in the country's restive north has been attacked three times in recent months by hordes of armed men who have killed and looted before shrinking back into their desert hideouts.
Those with the means have paid the 100,000-CFA franc (US$170, 152-euro) fare to hang out the back of an overloaded truck to safety in the town of Goundam, 40 km (25 miles) further south.
The only authority left in the desolate village is the ailing traditional chieftain, Hamad Mamadou.
Blind and walking with difficulty, he needs an interpreter to speak to the Malian captain and two French officers who have come to spend a few hours in Bintagoungou.
"Almost everyone has fled because of fear. We never sleep, day or night. At the slightest vehicle approaching, we hide in our houses," he tells the soldiers as they sit together under a canopy.
"Staying here is very dangerous. Especially today, market day. This is often when they come. Now they will not dare, because you are here.
"But when you leave it will be worse. The bandits will come to find out what you said, what your plans are."
'No security'–
Mamadou says he has no idea who these "bandits" are.
"They come from the Sahara in the night in Toyotas. They have weapons, scarves cover their faces. Those who dare to look see only their eyes," he says.
At midday, under an unforgiving desert sun, sand and litter blows across deserted streets. The local school is closed and the health clinic shuttered.
On Thursdays it was once a challenge to push through the crowds to get to the other side of the market square, but now most of the stalls are empty.
"There is no security, day or night," butcher Assibit Yattara tells AFP as he dices pieces of goat meat.
"As soon as I have got together enough money, I'm taking my family away from here."
Living as a refugee in Goundam, Bintagoungou mayor Hama Abacrine has a clear idea of the identity of the assailants.
"They are not foreigners. They are Malians — Arabs, Tuareg," he says.
"There are even blacks among them. We know them, some were our neighbors. They are thieves, robbers. Banditry has no ethnicity."
Abacrine fled three weeks ago, convinced that staying would have cost him his life.
"It's simple — the land was abandoned to thieves. This is why two-thirds of my constituents are here," he tells AFP.
'Worse than the terrorists'
"If you fight against them, 100 of them come back and burn everything. They steal money, vehicles, stores, equipment.
"As a result, people say they miss the days when Bintagoungou was, like the whole region, in the hands of the Islamists, because they kept order and stopped theft. For the people, thieves are worse than terrorists."
Northern Mali — a vast swathe of desert around the size of France — was seized by jihadist groups linked to Al-Qaeda for around 10 months in 2012.
They were ousted by a French-led military intervention launched in January 2013, but large areas of the north remain beyond the control of the Malian authorities.
Aminatou Bourri, 34, also fled Bintagoungou to seek refuge with her children in Goundam, where she is originally from.
"I would have made the journey on foot if I'd had to. The rebels, terrorists, thieves, Tuareg — I do not know exactly who they are — they take everything: food, animals, children's clothes.
"I'm lucky — my family is here. There are people here who have no one, camped near the Niger river."
Bintagoungou was attacked on April 30, half an hour after the Malian army left, according to the mayor.
"We need the army back. After two weeks, thieves will have understood, and will have gone to attack somewhere else."
Captain Sheikh Bayala, who has just been appointed to Goundam, watches the mayor uneasily, then looks at his feet, making no promises.