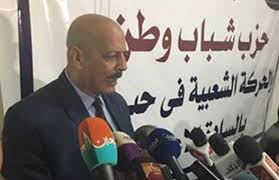 Several opposition factions in northeastern Syria have signed a ceasefire agreement in Cairo under Egyptian and Russian auspices, mediated by the head of the Syrian Tomorrow Movement Sheikh Ahmed al-Jarba.
The agreement worked towards a political settlement of the Syrian crisis through co-operation on counter-terrorism, the return of refugees and displaced people to their areas, and the release of detainees.
Egypt's efforts to calm the situation in Syria were shown in a similar agreement with armed opposition factions from the Syrian Coast, two weeks ago in Cairo. The city also saw numerous ceasefire agreements last year.
The mediations demonstrate Egypt's desire to end Syrian bloodshed, and restore stability through a comprehensive political settlement.
Under President Abdel Fattah al-Sisi, Cairo has enjoyed cordial relations with Damascus and its close ally Russia, which has extensively intervened to preserve the Syrian government. Meanwhile, Egypt currently has extensive economic ties to Riyadh, which has supplied weapons and ammunition to several Syrian rebel groups. Negotiating factions are hoping that these interests can balance out, to make Egypt a relatively fair moderator in the crisis.
In the latest meeting, opposition factions stressed that Egypt is "the stronghold of Arabism", and is uniquely qualified to bring the Syrian crisis to an end, given that it has "no involvement in the armed conflict, nor any particular bias to either party".
At the end of the recent meeting, leaders of the Syrian opposition factions thanked al-Sisi for the efforts exerted by his government to resolve the Syrian crisis, and alleviate the suffering of the Syrian people.
Edited translation from Al-Masry Al-Youm