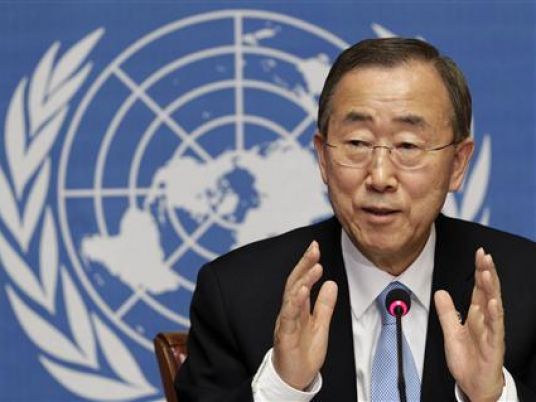 UN Secretary-General Ban Ki-moon urged President Bashar al-Assad to seek a political solution to Syria's war, saying this would help international efforts against Islamic State militants in Syria and Iraq, al-Hayat newspaper reported on Wednesday.
In an interview with the pan-Arab daily, Ban said years of war between Assad's forces and armed rebel groups had allowed militants such as Islamic State to take root in the region.
Asked whether Assad would have any role to play in an international coalition being assembled to fight Islamic State in Syria and Iraq, the UN chief said Assad could contribute by working politically towards an end to the war in his country.
"He (Assad) can play a role through ending the crisis as soon as possible and engaging in political dialogue," the London-based, Saudi-owned newspaper quoted him as saying.
Islamic State, a militarily-powerful al Qaeda offshoot that wants to create a jihadist hub in the heart of the Arab world, has made rapid territorial gains in both Iraq and Syria in recent months that have alarmed regional and Western powers.
In July, when Assad was sworn in for a new term as president, he vowed to recover all Syria from Islamist insurgents and dismissed the Syrian opposition abroad as traitors. But he also said he would be willing to work with the country's internal opposition, without giving details.
The United States has carried out weeks of air strikes against Islamic State targets in Iraq, but the outlook for US air raids in Syria is much less clear.
While Iraq's government welcomed the role of US warplanes to attack the militants, Assad has warned that any strikes conducted without his country's permission would be considered an act of aggression, potentially plunging any US-led coalition into a broader conflict with Syria.
Opposing Sides
Asked whether any armed outside intervention in Syria would need the blessing of Assad's government, Ban said: "I know that some leading countries are trying to discuss the matter, and the position of the UN will be declared at the suitable time.
"But it is important that the international community is united and shows strong support for any action that has to be taken to root out this terrorism."
Assad's military has stepped up air strikes over the last three months against the group, which controls about a third of Syria's territory, much of it desert in the north and east.
International and regional powers have backed opposing sides in the civil war, with Russia and Iran supporting Assad and Western powers and Gulf Arab states largely backing the rebels.
Asked whether the formation of a multinational coalition to fight Islamic State would involve Russia, Ban said this was "up to Russia to decide".
Ban also said a UN Security Council decision to support military action against Islamic State would be "an excellent and an appropriate way" to deal with the group but that its brutal killings were why, "some countries took some military action," in a reference to US air strikes in Iraq.
Saudi Arabia is to host talks with the United States, Egypt, Jordan, Turkey and fellow Gulf Arab states on Thursday in Jeddah in an apparent attempt to support international efforts to tackle crises in Iraq and Syria.
US President Barack Obama is expected on Wednesday to outline a plan to deal with Islamic State. US Secretary of State John Kerry arrived in Baghdad as he began a tour of the Middle East to build military, political and financial support to defeat the militants.