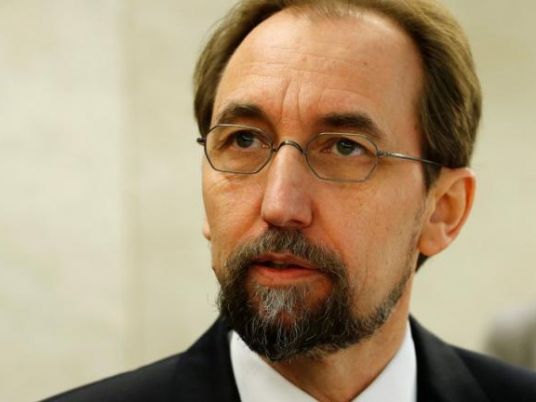 The United Nations and global rights groups including Human Rights Watch and Amnesty urged Egypt on Wednesday to drop a renewed investigation of rights activists that has also strained ties with Washington.
Since the 2013 ouster of Islamist president Mohamed Morsi, the authorities have led a crackdown on all forms of dissent — not just Morsi's supporters but also liberal and rights activists.
Rights groups have regularly accused Egypt's security services of carrying out illegal detentions, forced disappearances of activists and torture of detainees.
"NGOs who have played a valuable role in documenting violations and supporting victims will see their activities completely crippled if this continues," UN High Commissioner for Human Rights Zeid Ra'ad Al Hussein said in a statement.
"This will stifle the voices of those who advocate for victims," he said.
Rights group also raised the alarm.
"Egypt's civil society is being treated like an enemy of the state, rather than a partner for reform and progress," Said Boumedouha, deputy director of Amnesty International's Middle East and North Africa programme, said in a joint statement issued by 13 global rights groups.
It said that in recent weeks the Egyptian authorities have questioned several human rights workers, barred them from travel and also attempted to freeze their assets.
"The authorities should halt their persecution of these groups and drop the investigation," the statement said.
Five months after the fall of longtime leader Hosni Mubarak in 2011, Egyptian authorities began an investigation into the funding of local and foreign groups that led to the closure of five international groups, the statement said.
The United States and other European countries condemned the move and evacuated several citizens who were threatened with arrest.
Under Egyptian law, human rights groups operating without legal registration or accepting foreign funding could be jailed for life. Life imprisonment in Egypt amounts to 25 years.
"The Egyptian authorities have moved beyond scaremongering and are now rapidly taking concrete steps to shut down the last critical voices in the country's human rights community," said Nadim Houry, deputy Middle East director at Human Rights Watch.
US Secretary of State John Kerry said last week that there was a "deterioration in the human rights situation in Egypt in recent weeks and months".
His Egyptian counterpart Sameh Shoukry brushed off the criticism, saying the authorities supported civil society in the country.
"But there are laws in all countries to organise and guarantee that the organisations carry out their responsibilities based on the rules they were founded on," he said.