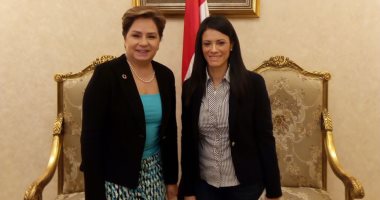 Minister of Tourism Rania al-Mashat met the Executive Secretary of the United Nations Framework Convention on Climate Change (UNFCCC) Patricia Espinosa to discuss a framework for cooperation to boost Egyptian tourism. The meeting comes on the sidelines of a national plans workshop, which will take place in Sharm El-Sheikh between April 4-6.
During the meeting Mashat discussed the measures undertaken by Egypt to improve tourism, adding that 'green tourism' standards that have been applied to hotels to ensure the hotel service is the strongest possible – as hotels are only awarded the 'green star', a national certificate of appreciation, if they abide by the Global Sustainable Tourism Council's (GSTC) international standards, which have been internationally approved by the International Tourism Board.
In a press release Mashat said that currently only 80 hotels have been awarded the star across Egypt, adding that the Tourism Ministry is cooperating with Chamber Of Tourism Establishments to increase the number of green star-certified hotels.
Espinosa expressed her admiration of the Egyptian experience with the Green Star Program, applauding the Tourism Ministry's role, and spoke of the UN's efforts to improve hotels around the world to ensure they abide by certain social and environmental standards. Among those standards are decreasing hotels' consumption of electricity and water, as well as decreasing harmful emissions.
Under the patronage of the Egyptian Ministry of Tourism, the Green Star Hotel Certificate for tourist's accommodation businesses is awarded to tourist accommodations in Egypt for their commitment to environmentally-friendly management and social responsibility. It has been developed as a public-private project between key stakeholders from the German and Egyptian tourism market.
Egyptian tourism authorities and the German International Cooperation have worked together to improve environmental awareness of hotels and increase competitiveness and environmentally-friendly performance of the Egyptian tourism accommodation industry, according to the official website of Global Sustainable Tourism Council (GSTC). The program has been applied in Egypt since 2012.
GSTC is an international body that manages the global standards for sustainable travel and tourism, and acts as the international accreditation body for sustainable tourism certification, "with the aim of increasing sustainable tourism knowledge and practices among public and private stakeholders," according to the GSTC official website.