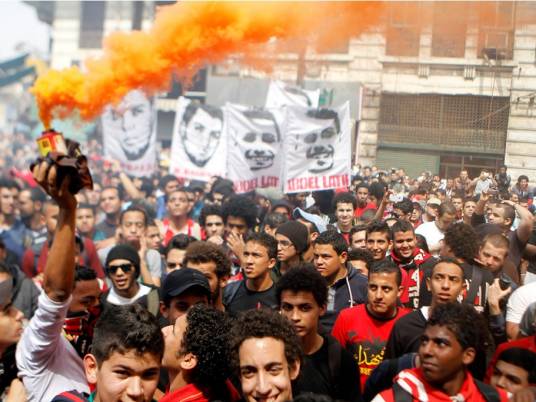 Thirty-eight members of the Ultras Ahlawy were released on bail by the Shebeen al-Koum Court in Monufiya on Monday. They were released on LE2,000 bail.
The football fans were detained on charges of attacking and attempting to break into the court as the protested against Thursday's arrest of one of their members on Thursday. They allegedly chanted slogans against the police force and the Muslim Brotherhood during the protest.
Revolutionary forces and members of other ultra groups denounced the charges, claiming that the suspects were detained illegally and the Interior Ministry was attempting to "settle scores" with them.
In addition to charges of besieging the court, the prosecution accused the suspects of burning public buildings, joining illegal organizations, attempting to jailbreak prisoners, burning the court building and insulting police officers. The suspects denied all charges.
Edited translation from Al-Masry Al-Youm