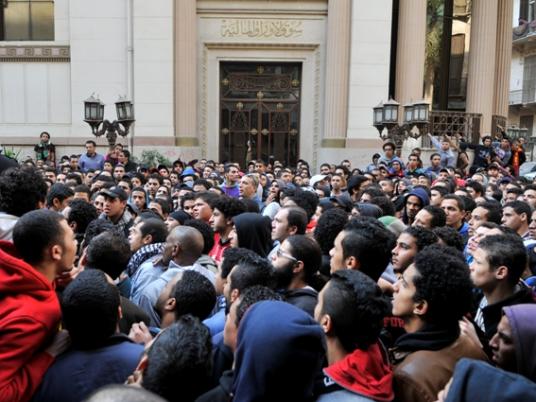 Security forces have started negotiations with Ultras Ahlawy, who gathered at the Central Bank of Egypt in downtown Cairo to demand retaliation for their fellow group members killed during the Port Said Stadium violence in February last year.
About 600 protesters from the football fan group prevented employees and customers from going in and out of the bank, state newspaper Al-Ahram's website reported.
Cairo security chief Major General Osama al-Sagheer deployed more Central Security Forces to the area and imposed a cordon around the bank, fearing attacks.
Security troops, headed by Major General Ali al-Demerdash, deputy chief of the Cairo Security Directorate, are negotiating with protesters to reopen the bank, which has been closed for hours.
Cairo traffic chief Major General Hassan al-Bardissy sent traffic police to the area, Al-Ahram reported.
About seventy-two football fans, most of them rooting for Cairo's Ahly team, were killed on 2 February last year after a match with Port Said's Masry team, after Masry fans stormed the pitch and attacked Ahly fans. Many partially blamed security forces for the violence, claiming police negligence.
Port Said Criminal Court is expected to rule in a case over the violence on 9 March. In a related verdict in January, it handed down death sentences for 21 defendants, sparking widespread anger and outcry in the Suez Canal city.
Clashes that erupted between protesters and police after the January verdict killed 40 people, and Port Said residents have since launched a civil disobedience campaign to demand justice over those deaths.