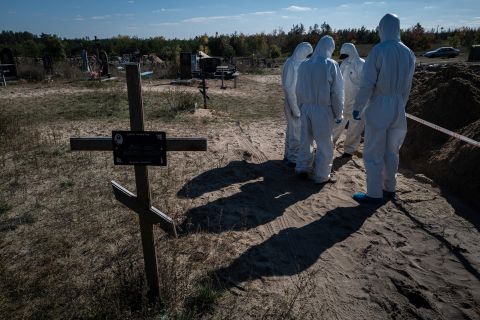 Ukraine has completed the exhumation of bodies in the largest mass grave discovered following the retreat of Russian troops from the eastern city of Lyman, Ukrainian police said Thursday.
According to the National Police of Ukraine, 146 bodies were exhumed at the Lyman cemetery in the Donetsk region, of which 111 were civilians and 35 military personnel.
Police said some of the victims died of shrapnel injuries from Russian shelling, adding some bodies showed signs of having suffered "a violent death," without giving further details.
CNN teams who went to Lyman previously reported seeing bodies with their hands tied behind their backs in the mass graves.
With the cemetery exhumations now complete, the number of bodies exhumed in Lyman now totals 166, of which five are children, according to police.
The victims will be reburied after a forensic medical examination while the exhumation of civilians buried elsewhere is ongoing, police said.