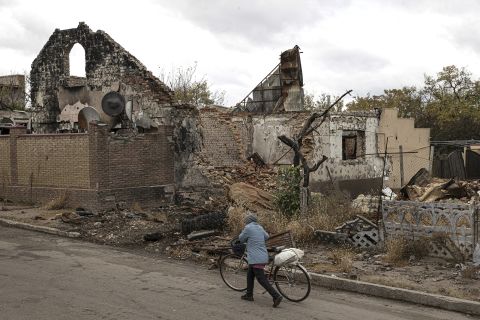 Russian forces in occupied Kherson are preparing "defensive positions" along the east bank of the Dnipro river and leaving small pathways for a "potential retreat" from the west bank, Ukraine's military claimed Tuesday.
"According to available information, the enemy is arranging defensive positions on the left (eastern) bank of the Dnipro river in Kherson region," the Armed Forces of Ukraine said in its daily operational update.
"Near the settlement of Hornostaivka, engineering and sapper units of the Russian occupation troops are laying mines along the coastline, leaving small pathways for the potential retreat of their troops from the right (western) bank."
CNN cannot confirm the Ukrainian military's claim.
Recent movements: On Monday, a resident in Russian-occupied Kherson told CNN's Clarissa Ward that Russia was withdrawing its administrative services from the city, and that many residents were waiting behind to await Ukrainian liberation.
The Kherson resident described the city as calm, with very few people on the streets.
The Russian-installed governor of the region, Vladimir Saldo, said last week that the civil administration would move from Kherson city to the eastern (left) bank of the Dnipro river.