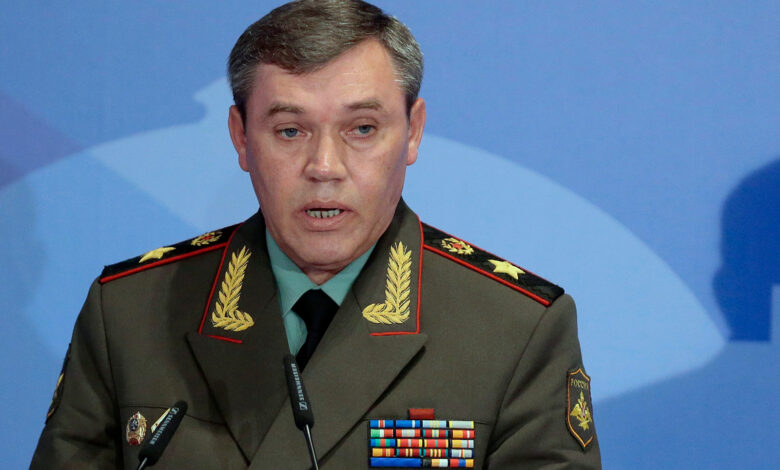 Ukrainian officials say the Russians are learning from their battlefield mistakes and making it harder for Ukraine's missiles to hit their ammunition depots and logistics hubs. That's why, they say, Ukraine needs longer range missiles that can reach inside Russia.
They also believe the appointment of Gen. Valery Gerasimov as the commander of Russia's offensive in Ukraine is a last throw of the dice by the Kremlin after multiple reshuffles of its military hierarchy.
The deputy chief of Ukraine's Defense Intelligence, Vadym Skibitsky, told CNN Monday that the Russians have begun dispersing military supplies "across the entire territory of the Russian Federation."
In particular, he said, "everything is moved to the southern regions through the Crimean peninsula" from logistical hubs in the Russian region of Rostov.
"If you ask what's critical for the Russian Federation, the centers of gravity are these very hubs, and they need to be struck in order to disrupt the supply systems of all kinds," Skibitsky said.
And this requires strikes against facilities not only in Russian-occupied Crimea, "but also in the Russian Federation," Skibitsky said.
He described Russia's logistics systems as lying 80 to 120 kilometers (50-75 miles) from the front line, which means Ukraine needs longer-range strike systems to target them.
Another reason for long-range artillery: multiple Ukrainian officials have told CNN that Ukraine wants to launch a counteroffensive before Russian reinforcements are equipped and ready to move. But to do that, Kyiv needs to be able to reach further.
"In order to prepare a counteroffensive or offensive operation you need to destroy many installations, not only on the front line, but also deep behind, 100-150 kilometers behind the enemy lines," Skibitsky said.
"Especially now, to form strong strike groupings we require tanks, infantry fighting vehicles, heavy weapons that would enable quick counteroffensive operations against the enemy."