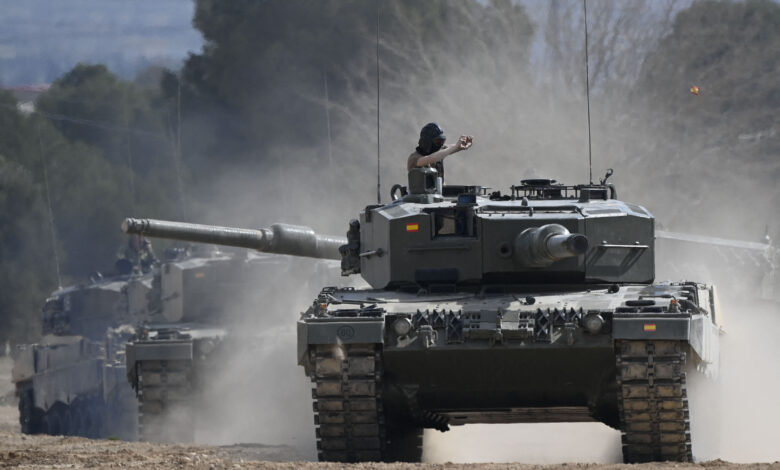 Ukraine has received its first British main battle tanks, along with other donated Western-made armored vehicles, Defense Minister Oleksii Reznikov announced Monday.
"Today, I had the honor to test the newest addition to our armored units together with the commander of the Airborne Forces, Major General Maksym 'Mike' Myrhorodskyi, and our paratroopers," Reznikov said in a Facebook post.
He specified that they received Challengers (main battle tanks) from the United Kingdom, Strykers (infantry fighting vehicles) and Cougars (infantry mobility vehicles from the mine-resistant ambush-protected family) from the United States, and Marders (infantry fighting vehicles) from Germany.
Reznikov went on to thank Ukrainian allies for their continued support.
"A year ago, no one could have imagined that the support of our partners would be so strong. That the entire civilized world would reboot and eventually resist the bloody aggressor, the terrorist country of Russia," he said. "This year, everything has changed. Ukraine has changed the world. The resilience of the Ukrainian people and the skill of our army convinced everyone that Ukraine will win."
He added that the "new equipment will keep good company with its 'brothers' on the battlefield."
Chancellor Olaf Scholz said Germany had also delivered sought-after German Leopard 2 tanks to Ukraine.
"Yes, we delivered Leopard tanks as we announced," Scholz said during a joint news conference with Dutch Prime Minister Mark Rutte in Rotterdam on Monday. Germany previously pledged 18 Leopard 2 tanks to Ukraine. The modern tanks are known for being fast and fuel-efficient.
"Germany and the Netherlands have jointly delivered howitzers and ammunition and are just preparing, together with Denmark, to deliver Leopard 1 main battle tanks to support Ukraine," Scholz said, adding that Germany had "just now delivered" also the "very modern" tanks.
Some background: The arrival of the Leopard 2 tanks comes after months of debate. German officials wavered on sending the tanks to Ukraine, saying they were waiting for the US to send its own M1 Abrams to Kyiv.
President Volodymyr Zelensky has repeatedly pleaded for countries to stop arguing about sending the tanks.
"We have talked hundreds of times about the shortage of weapons," he said during a virtual appearance at the World Economic Forum meeting in Davos in January. "We cannot go only on motivation."
Correction: An earlier version of this post incorrectly stated the origin of the tanks that arrived Monday in Ukraine.