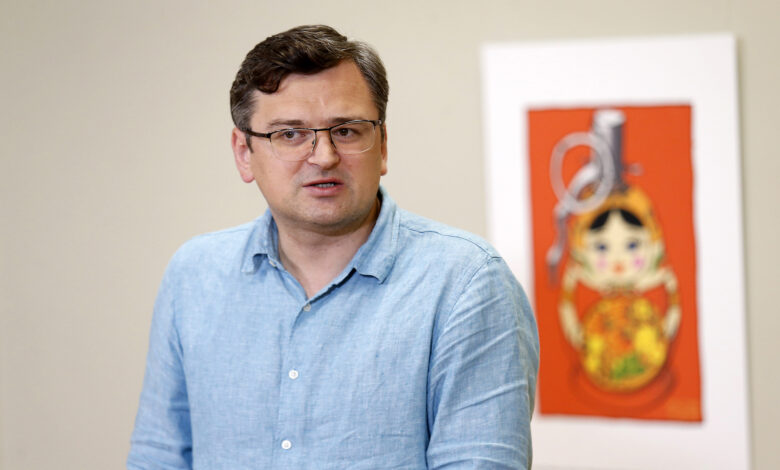 Ukrainian Foreign Minister Dmytro Kuleba has told the G20 Foreign Ministers Meeting that Russia has embarked on a "a well-thought and cynical strategy" to destroy Ukraine's agriculture.
Kuleba addressed the G20 meeting in Indonesia by video link.
"The Russian naval blockade of Ukrainian ports has already shredded global chains of food supply and has a detrimental effect on global food security. Adding insult to injury, Russia steals Ukrainian grain and bombs Ukrainian granaries," he said.
"Russia is essentially playing hunger games with the world by keeping the naval blockade of Ukrainian ports with one hand and shifting the blame for it on Ukraine with the other hand. Russia sees dependence of other countries on any type of resources as weakness and an invitation to use this dependence as a leverage to Russia's gain."
Kuleba said that Russian forces had struck Ukraine's second largest grain terminal complex at the port of Mykolaiv in June, claiming that "Russia knew exactly where it fired its missiles." The strike was aimed at causing destruction in Ukraine and "blackmailing the world," he added.
Kuleba told the foreign ministers that for decades, Ukraine — often described as "a global breadbasket" — has been essential to worldwide food security, but is now being "attacked, bombed, and looted by Russian criminals."
Responding to Russian claims that Ukraine was blocking its own ports, Kuleba said: "Their accusations defy basic logic. How can we be interested in blocking our own food exports when they provide one of our main sources of revenues for the budget? We are interested in exporting our food products just as much as our consumers are interested in getting them as soon as possible."
Separately, the Ukrainian Defense Ministry has alleged that Russia is using munitions to set farmland on fire as harvest season gets underway. A recent video shows combine harvesters in parts of southern Ukraine trying to gather in grain as fires burn through fields.
Some background: The UN has said Russia's blockade of Ukrainian ports has already raised global food prices and threatens to cause a catastrophic food shortage in some parts of the world.
On Thursday, Ukraine's Foreign Ministry said the release of a Russian ship allegedly carrying stolen Ukrainian grain from Turkish waters was "unacceptable." Turkey ignored a request to arrest the vessel and cargo and the ship was released on July 6, according to a ministry statement. The Russian merchant ship, Zhibek Zholy, had carried the grain from the occupied port of Berdiansk to the Turkish port of Karasu.
Russia has repeatedly denied it is blocking the ports or stealing grain.