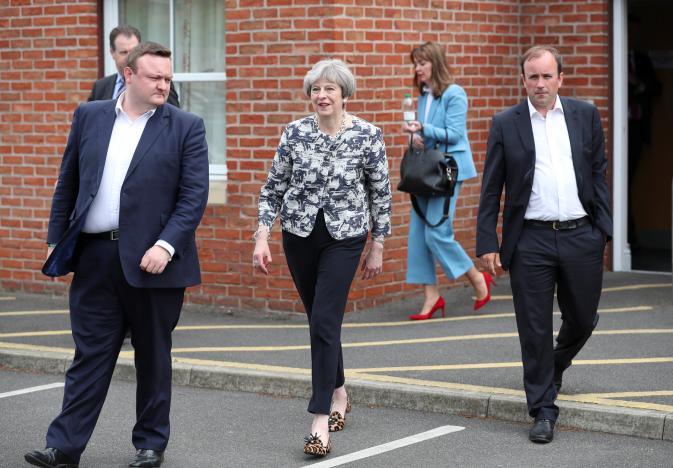 It was meant to be a landslide victory for Prime Minister Theresa May.
But the odds on that outcome in the British general election on Thursday are lengthening by the day, raising the prospect of a government weakened just as it starts divorce talks with a European Union showing more unity and economic strength than at anytime in the past decade.
May is still favored to win, but anything short of an increased majority could weaken her hold over euroskeptic lawmakers in her own Conservative Party and raise the chance of an acrimonious fight with Brussels.
"From the EU's standpoint, this looks like a win-win situation," René Defossez at Natixis said. "If Theresa May does end up with a comfortable majority, it will be that much easier (for her) to make concessions."
"If there is no clear majority after the June elections, the UK will be weakened, placing the EU in a position of strength," Defossez said. "A small majority would likely give more weight to the Brexiters in the Conservative Party, heightening the probability of a clash."
Most polls show the Conservatives' lead narrowing, with one, admittedly outlier survey, giving the party just a 3 point lead. However, opinion polls in Britain have had a relatively poor track record recently, raising expectations that this election could again spring a surprise.
The vote will offers starkly different choices on traditional economic policies with Britons having to pick between the status quo of the low-tax Conservatives and left-wing Labor's plans to re-nationalize public utilities, increase spending and raise taxes for top earners and companies.
While both major parties are committed to taking Britain out of the European Union, May has accepted that limiting immigration would inherently mean losing access to the single market, a conclusion Labour has yet to draw.
Many economists have warned about the impact on the British economy — the world's fifth-biggest — of leaving the EU's single market, which enshrines freedom of movement for goods, services, capital and people.
Labour, under radical left-winger Jeremy Corbyn, says Britain should keep the benefits of being in the single market. But that aim jars with his commitment to end freedom of movement for EU workers to come to Britain, which other EU countries insist is non-negotiable for single market membership.
Consultancy Capital Economics said that a big parliamentary majority for May would ease uncertainty for companies and investors and pave the way for the Bank of England to raise interest rates sooner than markets expect.
"The sanguine market reaction to U.S. President Trump's stimulus plans suggests that higher debt projections might not result in a significant rise in borrowing costs through an increased risk premium for holding government debt," it said.
ECB
While Britons vote on Thursday, European Central Bank policymakers meeting in Tallinn, Estonia, will likely take another baby step towards removing the extraordinary monetary stimulus the bank has provided.
With growth broadening and political risk declining after Emmanuel Macron's victory in France's presidential election, the euro zone is on its best economic run in a decade, raising hopes for normalization after years of crisis fighting.
Indeed, with over 5 million jobs created in recent years, unemployment is at an 8-year-low and sentiment indicators point to jobs and consumption-fed growth, making the recovery more resilient to swings in the global economy.
While progress on vital reforms to cement growth has been lacking, political leaders have displayed unusual unity in recent weeks, raising hopes for an EU reboot and some relief for the ECB, which has carried the bulk of the burden since the crisis.
The ECB could honor this progress by adapting a balanced risk assessment, dropping a long-standing negative view on risks to growth. It could also discuss dropping its so-called easing bias, a pledge to provide even more stimulus if necessary.
But any move by the bank will be just a slight tweak around the wording of ECB President Mario Draghi's opening statement, steering clear of any hint about its next policy move on worries that heightened expectations could set off a cycle of self-defeating market turbulence.
"Even a blind man can see that risks to the eurozone outlook are currently much more balanced than tilted to the downside," ING economist Carsten Brzeski said. "At the same time, however, the cyclical upswing has not led to any inflationary pressure.
"Consequently, the ECB will not be in any rush to unwind QE. However, next week's ECB meeting could mark the start of taper tiptoeing," Brzeski added.
Report by Balazs Koranyi (Frankfurt); Additional reporting by William Schomberg; Editing by Toby Chopra; Reuters