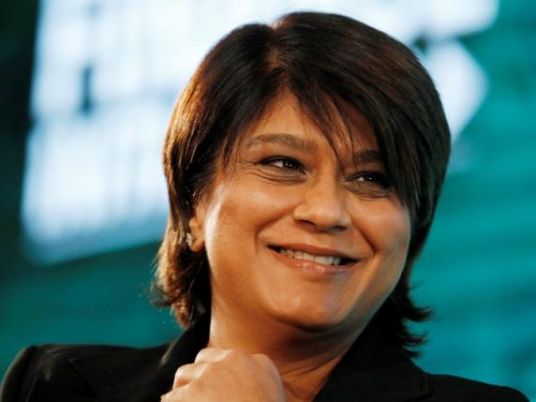 In early October 2008, then Business Minister Shriti Vadera called a secret meeting of bankers and government officials on the top floor of Standard Chartered's City of London headquarters to address Britain's biggest peacetime crisis.
The collapse of Lehman Brothers two weeks earlier – the biggest bankruptcy in history – had caused UK credit markets to seize up and pushed some of Britain's biggest high street lenders, including Royal Bank of Scotland and HBOS, to the brink of implosion.
Vadera told the meeting that if they did not quickly come up with a bold plan the economy was on the verge of collapse, according to two people present at the gathering.
The strategy she came up with is credited by some as driving then Prime Minister Gordon Brown's subsequent bank bailout plan, burnishing her credentials for her latest role — representing major banks as Britain negotiates to leave the European Union.
"She was one of the most important people in the banks' rescue," said a person who spent months working on the bailout.
"Throughout the whole process she made people do things that they didn't want to do: the banks, the Treasury, the Bank of England. She is a force of nature."
Vadera, a former investment banker, is now chairwoman of Santander UK and is being called upon to protect the banks again, this time as chair of the new lobby.
Britons' vote to leave the European Union spells years of uncertainty for the UK financial industry, which accounts for about 12 percent of economic output and is the biggest generator of taxes.
It is an upheaval that threatens London's dominance of global finance.
The group led by Oxford-educated Vadera will push the government to retain as much access to Europe's single market as possible as it renegotiates Britain's relationship with the other 27 members of the bloc.
EU leaders have made clear market access is impossible unless a country also allows EU citizens the right to work in Britain, something the banks would welcome but which many of those who voted in June to leave the bloc reject.
That puts an industry scorned by Britons since the financial crisis on a collision course with large swaths of the public who reject the EU partly because of fears about immigration.
People who have worked with Vadera say her directness is part of her appeal, although her style can be abrasive.
Two of them said former finance minister Alistair Darling once had her locked her out of a meeting during the financial crisis after she was rude to one of his officials.
"She appears to believe that unless there is blood on the carpet, preferably that of her own colleagues, then she has not done her job," Darling said of her in his memoirs.
Vadera declined to comment for this story.
Task force
Her supporters say she has what it takes to forge consensus between the new government, divided between eurosceptics and supporters of the EU, and the disparate views of Britain's financial sector of banks, insurers, brokers and asset managers.
"This is something that needs both knowledge of Europe and government and has to be done with energy, with directness," HSBC Chairman Douglas Flint told Reuters in the first public comments by a member of the group. "We need to drive quickly what's really important and it takes leadership that combines both intellect and a bit of vigor."
The task force comprises about a dozen top names from the financial district, including Royal Bank of Scotland Chairman Howard Davies, insurer Aviva's chairman Adrian Montague, Allianz Global Investors' vice chair Liz Corley, and Barclays chairman John McFarlane.
From an office in London's Mayfair district, it will offer advice to the Treasury, as well the newly created ministries of the Department for Exiting the European Union and International Trade in their negotiations over leaving the EU.
Some of its thinking is already emerging. This includes appealing to large companies in continental Europe to make the case for Britain's continued access to the single market, perhaps coupled with continuing to contribute to the EU budget after it has formally left the bloc.
"There won't be a single view but we are making sure that everyone understands the key issues, what's important and what we are fighting for," Flint said.
While Prime Minister Theresa May will be mindful of the tax revenue financial services generate, other industrial sectors will be vying for her attention as well.
Herding cats?
Vadera's reputation could work against her as well as in her favor.
The same two people who worked with her said she was known as "Shriti the Shriek" by government officials for her ability to reduce junior staff to tears when she worked as a minister and protégé of former Prime Minister Gordon Brown.
A friend said that while she can be difficult, some of her public portrayal comes with an element of misogyny. "She is strong minded and strong willed, but with men that is often seen as a virtue," the person said.
Born in Uganda, she was brought up in India and Britain after the dictator Idi Amin expelled her family.
Days before the referendum, Vadera wrote a column after lawmaker Jo Cox was killed about the benefits of EU membership.
She said Britain's long history of internationalism is a source of its economic strength and was grateful that as a stateless child she could become a British citizen.
"I love the Britain that can nurture immigrants like me and make them its own," Vadera said.
Vadera's task force, whose full name is the Financial Services EU Task Force, won't have the field to itself.
The Financial Services Negotiation Forum also aims to bend the government's ear in trade talks, styling itself more as a grassroots body led by City veterans that wants to give smaller financial firms in London and beyond a voice as well, which will inevitably mean differing priorities.
An executive at one bank, who worked on the rescue of the British banks during bailout, said he was skeptical that even a task force backed by top lenders will have much success in a sector known for the aggressive pursuit of self-interest.
"I don't think the task force will have much force or many tasks," he said. "Everyone will just pursue their own agenda."
He did, though, say Vadera is the best person for the role.
He remembers her berating the bank CEOs who didn't want to accept taxpayer money during the financial crash and urging officials from the Treasury to get on with the bailout.
"She is the most organized, capable person I can think of for this job," he said. "She is a very hard woman to say no to."