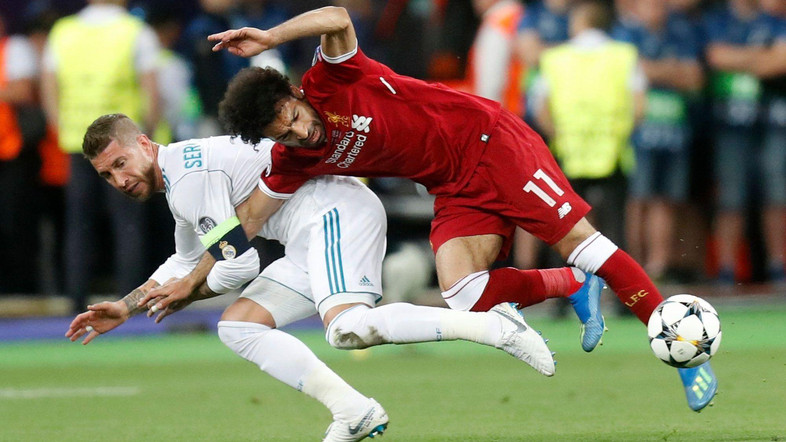 The Union of European Football Association (UEFA) is considering launching an investigation into Liverpool star Mohammed Salah's recent injury.
In an interview with BBC Radio on Tuesday, representative of UEFA announced that the ethics committee has been following the incident since Saturday evening, however they had not received any formal complaint against Ramos from neither Liverpool nor Salah himself.
Salah had been seen crying as he was carried off the field in Keiv on Saturday, after Real Madrid Captain Sergio Ramos injured his arm in a tussle during the Champions League final which Liverpool lost. Real Madrid ended the match 3-1 in their favor. Salah left the field only 30 minutes from the beginning of the game.
It was later announced that Salah had sustained an injury in his left shoulder, and could be seen having his hand in a sleeve. The incident caused widespread anger at the Real Madrid captain, with many arguing that Ramos maintained a rough playing style. Hashtags such as #Ramosthedog (14.9K tweets) and #Ramostheanimal (47.9K tweets) trended across social media as users argued whether what Ramos to Salah did was intentional.
An online petition urging FIFA and UEFA to suspend Ramos for Salah's suffering reached 400,000 signatures in just two days after its launch, reported the BBC. The petition was started by Egyptian Mohamed Salah Abdel-Hakeem, who accused Ramos  of "intentionally hurting" Salah.
"Sergio Ramos intentionally kept Mohamed Salah's arm under his armpit, causing dislocation of his shoulder," the petition reads. "Not only missing the rest of the game, but also missing the FIFA World Cup 2018."
"In addition he kept acting that Liverpool players fouled him falsely, causing the referee to give [Sadio] Mane a yellow card he did not deserve. Sergio Ramos represents an awful example to future generations of football players. Instead of winning matches fairly, he uses tricks that defy the spirit of the game and fair play."
"UEFA and FIFA should take measures against Ramos and similar players, using video recordings of matches to keep the spirit of the game."
While the petition may have influenced the UEFA to launch the investigation into the incident, it is by no way binding to any football body.
An Egyptian lawyer, Bassem Wahba, is also threatening to sue FIFA " for the physical and psychological harm that Ramos gave Salah and the Egyptian people," the lawyer told Sada El Balad channel, adding that the lawsuit could exceed $1 billion.
Never has a similar case affected a player's ability to play for his national team, though speculations abound that if FIFA does take this into hand, it might ban Ramos playing for Spain this summer, according to ESPN. Similar cases before have resulted in players being banned for a number of matches from playing for their league teams.
Last summer, UEFA banned Manchester United defender Eric Bailly for three European matches due to his aggressive play in the Europa league semifinal. In 2014, UEFA also suspended Real Madrid's Xabi Alonso from the UEFA Super Cup and the Champions League final for aggressive play.
Mohamed Salah rose to fame last year after breaking records and winning several awards, most notably the Golden Boot, Top Scorer of the Top Five Leagues and BBC African Player of the Year (2017). He has also been pegged as one of the favorites to win the Golden Shoe, football's most prestigious award. If he does, he would have ended a ten-year-reign on the boot between Cristiano Ronaldo and Lionel Messi, broken only once by Luis Suarez (2013-14).