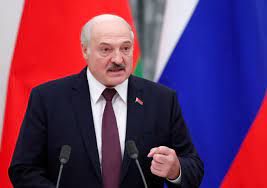 Belarusian President Alexander Lukashenko announced that the United Arab Emirates' is ready to coordinate a solution to the refugee crisis on the Belarus' borders with the EU, according to the Belarusian Telegraph Agency BelTA.
Tensions erupted on the Poland-Belarus border after thousands of illegal migrants attempted to cross to Poland. Polish border guards strengthened their position by deploying thousands of additional soldiers to prevent migrants from crossing its borders.
Lukashenko added in a press statement on Tuesday, that many good people were ready to make a significant contribution to resolving the situation with refugees, not only on the borders of Belarus, Poland, Lithuania and Latvia.
The UAE has extensive experience working with refugees, and has already been involved in solving similar issues in the world, Lukashenko said.
The UAE has worked with thousands of refugees and is ready to help, he added.