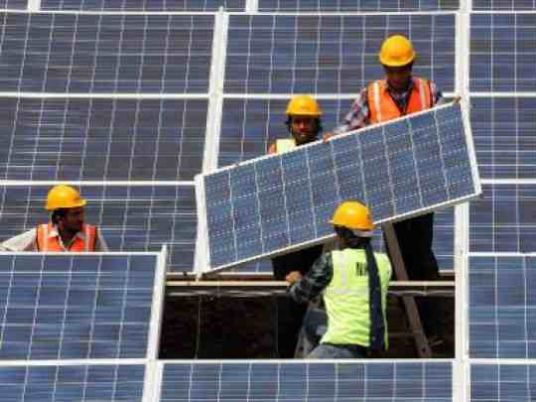 A Dubai-based private firm is leading a consortium in bidding to develop solar and wind power plants for Egypt as part of the country's plans to diversify its power generation mix amid its worst energy crisis in decades, the company's chairman said.
Egypt is working to expand both coal and renewable energy use. It is mostly dependent on natural gas to power homes and industry, and persistent shortages cause regular blackouts throughout the country of 85 million people.
Access Infra Africa, a partnership between United Arab Emirates' Access Power and France's renewable energy company EREN Developpement, plans to invest over $500 million in renewable power assets in Africa over the next three years, Reda El Chaar, chairman of Access Power, told Reuters.
The new company has been prequalified earlier this month by Egypt's Ministry of Electricity to develop four solar plants with total capacity of 200 megawatts and two wind plants with 100MW, El Chaar said. The plants are part of the first round of Egypt's renewable energy procurement programme.
"Egypt is one of those places where renewables make sense… no investor will ignore Egypt just because it fell into two or three years of unrest. Everyone will be looking at the long-term viability of the market," he said in a phone interview.
Egypt has said that by 2020 it wants 20 percent of its power to come from renewables such as wind and solar. But such plans have stalled for year mainly due to high costs and lack of investment.
Political turmoil since a 2011 revolt which ousted Egyptian leader Hosni Mubarak has hit the economy hard.
UAE-based companies have been capitalising on good relations between the UAE and Egypt's army-backed government, which is trying to attract foreign investment.
Electricity Minister Mohamed Shaker said in November the government wanted to cut its reliance on natural gas and fuel oil for power generation from an unsustainable 90 percent to 62 percent by fiscal year 2020/21.[ID: nL6N0T12BP]
Access is also bidding for a wind power plant with a capacity of 850MW in Morocco and is eyeing to expand its operations in other African countries such as Uganda, Rwanda, Tanzania, and Ghana through the new venture, El Chaar said.
EREN Developpement, founded by Paris Mouratoglou and David Corchia, both former heads of EDF Energies Nouvelles, France's largest renewable energy company, owns 20 percent in Access Power and funds 70 percent of its operations in Africa.