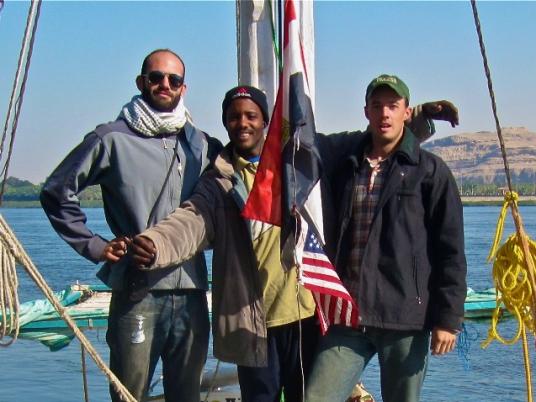 Just under a year ago, two Americans, Will Raynolds and Josh Maricich, embarked on a long journey across Egypt from south to north to see how the revolution was manifesting throughout the country.
Rather than use the usual transport and accommodation, they opted to do it by felucca, covering the 800-km stretch that is Egypt's portion of the Nile, and spending clusters of days with different communities and people.
But the trip that started as a cross-country adventure after the 25 January revolution naturally became a trip through the legacies of previous regimes, as well as one offering insight into the nation's eco-touristic beauties.
The trip was not eco-tourism in the traditional sense. It was fraught with troubles, such as a robbery, and bureaucratic battles with police who were reluctant to let them pass at each barrage — particularly considering the xenophobia that has become common after 25 January.
Raynolds, 30, and Maricich, 31, have both lived and worked throughout the Middle East for more than a decade. Raynolds' background is in archaeology while Maricich's is in journalism, and they both speak fluent Arabic.
They ended up in Cairo around April last year after Raynolds was deported from Libya, and Maricich from Yemen, due to the revolutions also taking place in those countries. The euphoria of Hosni Mubarak's ouster was still heavily in the air.
"We saw this magical spirit throughout Cairo, of optimism and change," says Raynolds. "But all the focus was on Egypt's cities. We wanted to see how it was manifesting in other places and with the people who aren't in the news."
So, in September last year, "rather than wasting our money on renting an apartment in Cairo and daily urban expenses," they both took a train down to Aswan to obtain a felucca.
"Tourism had been suffering in Aswan, and so we were luckily able to purchase our own felucca for what would've been about three months' rent in Cairo," Maricich says.
Two cousins from the family that sold them the felucca, Ayman and Adham Abdel Basset, wanted to join the two Americans. This was welcomed, partly because neither Raynolds nor Maricich initially knew how to maneuver a felucca.
"I had never done anything like that. It seemed exciting and I wanted to join," says Adham Abdel Basset, who was still with the others during his meeting with Egypt Independent a year later.
There are no records of anybody having traversed the entire Egyptian Nile by felucca. The last recorded attempt was in 1939, and the man's boat allegedly sank somewhere around Helwan. "That's not to say no one's done it, but there are no records and it definitely didn't seem common," Raynolds says.
But after the joy of obtaining a felucca, the reality of the hardships of living and traveling on one kicked in.
"It's definitely not easy living and sleeping on a felucca for a long time," Maricich says. "There's tons of bugs and insects, it's cold and awkward, and also, this is Egypt, so there's people everywhere. You wake up at 5 am to see people all over the shore looking at you."
But along with the difficulties came many of Egypt's natural beauties.
"The Nile — particularly in Upper Egypt — has beautiful natural bellows, with heat expanding and air flooding down the Nile corridor, as if it is designed to be traveled by felucca," Raynolds says. "And while this is more artificially produced, the Nile water after the Aswan Dam is so clear you can see through it and even drink from it."
Leaving Aswan, they set sail to Luxor.
"It was pretty smooth sailing until Luxor," Raynolds says. "There is a beautiful river culture of boat captains, felucca owners and residents who live along the Nile, with whom you share information about where you came from and learn about the currents and travel conditions — it's a different vibe to any other type of travel."
But after reaching Luxor, the first signs of trouble appeared. Police who monitor Nile travelers and trade routes at barrages began to question them — the Nile barriers around Luxor had been permanently closed to travelers since the 1997 massacre.
"The further north we went, the more time-intensive traveling the Nile became," says Raynolds.
"You begin to have police with guns accompanying you on your felucca, keeping you at a barrage for days at a time," says Maricich, adding that they were accused of being Israeli spies, a common occurrence after the revolution.
Eventually, they were allowed to pass the Luxor barrage, even though it took continuous negotiations to get through.
While continuing north during fall last year, parliamentary elections were also taking place up and down the Nile, so the vibe of the residents was often ecstatic and optimistic.
"Everybody was fielding a candidate and really proud of the fact that they could do that," says Raynolds. "It was powerful to them, and it seemed that the people in Upper Egypt may actually have the most to gain from Egypt's revolution. I think Minya and Assiut can become real power centers."
Raynolds says they noticed how fragmented the country had become politically over the last 30 years.
"There's definitely a legacy of huge separations and divisions, not just from Cairo, but even neighboring villages," says Maricich, adding that each town would welcome them to their own but warn them of the next. "All the way up."
The environment and the state of the Nile have also suffered severely, they say.
"The Nile has been poorly maintained, and there's too much silt in places that will eventually make it impossible for trade boats to pass through. Many boats get stuck already," says Raynolds. "But the felucca was buoyant and perfect for avoiding this."
Overfishing and overhunting along the Nile during the past decades has led to a clear deficiency in the environment's richness.
"It's not a complete picture of despair, but you can see the effects of prolonged, systemic decay," he adds.
As they reached Beni Suef, they started to see industrial sites dumping their waste into the Nile. Maricich was also woken up early one morning to a garbage truck dumping its contents into the Nile.
The felucca reached Cairo during the first week of December, after more than two months of traveling. The two men then decided to stay in Cairo, living on the felucca, for the 25 January anniversary, and ended up staying throughout the presidential election.
"In exploring the revolution in Egypt, it seemed key to remain in Cairo at this point," says Maricich. But poor weather during the winter and the khamaseen season are also not feasible times to travel down the Nile. They suspected that the boat from the last recorded attempt sank for this reason.
They set sail for Alexandria in June. But the second leg of the trip, despite being similar in its experiences with people and villages along the river, was fraught with trouble. Police became stricter and delays became longer. At some point while passing through Helwan Governorate, someone broke into their felucca and stole several of their possessions.
They reached the lower tip of the Delta during the first week of Ramadan.
During their travels down the Nile, starting in Aswan, they noticed the severe disruption to agriculture that had taken place since the construction of the Aswan Dam was built.
"It was obvious that trying to create income from your farm had become a near impossible task for small farmers," says Raynolds, who adds that many farmers can't access markets easily, and miss the days of the cooperatives, which were dissolved by former Agriculture Minister Youssef Wali in the early 1990s.
They finally arrived in Alexandria in the middle of Ramadan. Bureaucratic issues with the police were paramount. Trying to leave Alexandria was also very problematic, as issues with the police kept the felucca trapped in the port for days.
"If anyone was to repeat this trip, I would not advise going past Cairo," says Abdel Basset. "It's just too much trouble, getting through the trade barrages, but still a beautiful experience."
They say it was a worthwhile trip but not for the fainthearted.
"Don't expect a Route 66 eco-tourism trip. The living environments are bound to make you quite ill a few times," Maricich says. "It is very difficult, but it is certainly something Egypt should look into improving and advocating in the future."
Raynolds says they think the most pressing issue in the country is illiteracy, based on the people they met.
"The number of illiterate people who are even in their 30s is very upsetting, and it seems to take its toll on everything, from livelihood to polluting the environment to politics," he says.
But with regard to the revolution, he says non-urban areas hold a lot of potential.
"The most optimistic thing, I think, is the lives and attitudes of the individuals and people who live outside of Egypt's major cities. That's where I see the most hope for a different future."
Raynolds and Maricich are working on a book detailing their travels. They plan to work on it in Dahab, in South Sinai.
This piece was originally published in Egypt Independent's weekly print edition.