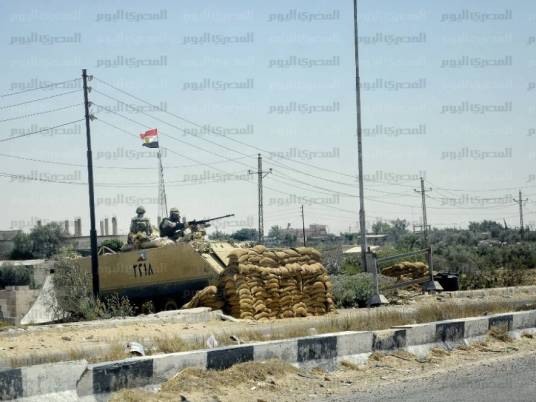 Unknown assailants shot dead two Central Security officers in Sheikh Zuwayed in North Sinai on Friday, hours after the army declared the death of three jihadists in military campaign in the restive peninsula.
Brigadier generals Mohamed al-Salmy and Omar Fathy were shot dead while taking the Arish high road.
The Sinai Peninsula has been witnessing a growing presence of Islamist militants who claimed responsibility for several bloody attacks against security forces both in Sinai and other regions in Egypt since the ouster of deposed president Mohamed Morsy.
The army said Thursday it had killed a senior leader at Ansar Bayt al-Maqdis, the most active militant group battling security forces in Sinai. The military crackdown came one week after 22 soldiers were killed in an attack at the New Valley, west of Cairo.
Some Sinai residents, however, claim they are being unjustly targeted and part of massive "scortched earth" campaigns where whole neighborhoods are burnt down because one house allegedly shelters a terrorist.
Edited translation from Al-Masry al-Youm