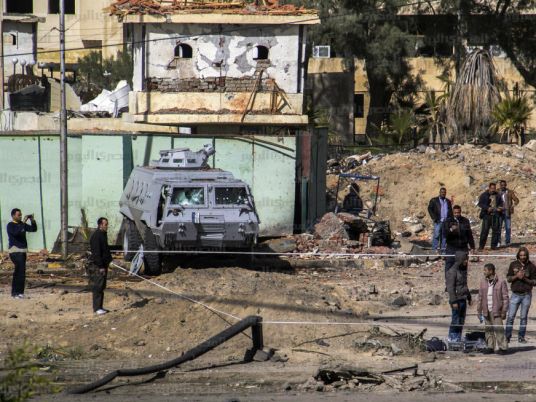 Two police conscripts were killed and nine others injured on Saturday in an 'Improvised Explosive Device' '[IED] explosion that targeted their armored vehicle in the 'Safa' region at the North Sinai city of Al-Arish, according to a statement released from the Interior Ministry.
The statement read that while a police armored vehicle was passing from the 'Safa' region inside Al-Arish, an 'IED' exploded near the vehicle and thus led to the death of two police conscripts and the injury of the other nine.
The police forces made checkpoints around the site of the 'IED' attack and launched sweeping operations while ambulances transferred the injured conscripts to the nearest hospitals in the city.
At dawn on Friday, more than 100 militants from the Islamic State (IS) affiliated group 'Sinai Province' launched a suicide and militant attack against the Egyptian army special forces battalion (103) based in the North Sinai's city of Rafah.
The attack, that met fierce resistance from the battalion conscripts and fellow officers, led to the death of 40 militants from 'Sinai Province' and 23 members of the battalion, from them their battalion leader and four other officers.
Following the attack, the ' Sinai Province' group claimed responsibility and released a statement that read that the attack was conducted through the use of two suicide bombers who used bombed vehicles to target the battalion based at 'Al Barth' area in Rafah city.
The '103' battalion, that is affiliated to the special army forces 'Sa'aka,' has been previously subjected to several attacks from 'Sinai Province' militants, however, these attacks were met with failure.
In October 2016, the former leader of '103' Sa'aka battalion Ramy Hassasnein was killed with two other conscripts in a 'IED' explosion that targeted an armored vehicle he was in while it was driving on the El-Gowra road south of Sheikh Zuwed city in North Sinai.
Since 2013, following the ouster of the Islamist former President Mohamed Morsi, several violent attacks have occurred in North Sinai by the 'Sinai Province' group previously known as 'Ansar Byat Al-Maqdus' group.
In 2014, the group changed its name to 'Sinai Province' following it declared its affiliation to IS, the group's ideology is based on considering all army and police members as infidels who should be killed in order to easily reach the Islamic caliphate state.
In response to the violent attacks from 'Sinai Province' group, the Egyptian army and police forces launched large-scale military operations accompanied with sweeping operations targeting IS militants.