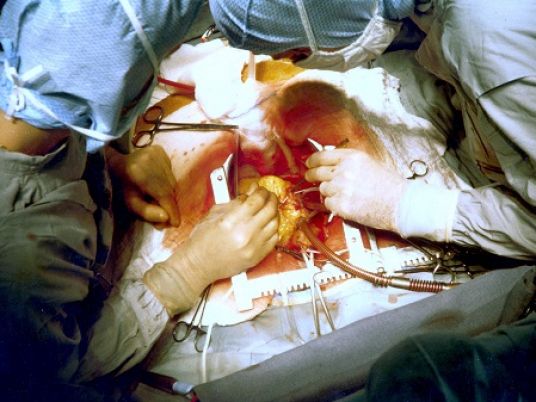 Two people who destroyed the cardiac catheterization room at the National Heart Institute have been arrested, Dean of the National Heart Institute Mohamed Ossama said.
The family of a 33-year-old patient who died at dawn on Sunday during a cardiac catheterization at the National Heart Institute in Imbaba neighborhood destroyed the catheterization room in anger, al-Shorouk news website reported.
The incident was filmed entirely through surveillance cameras, which are currently under the control of prosecutors investigating the incident, Ossama explained in a phone call to the MBC Masr channel on Sunday evening.
The patient's condition was very critical, Ossama said. He was suffering from massive thrombosis of a large part of the heart muscle, and had been rejected by other hospitals due to the hopeless severity of his condition.
His family had signed an avowal stating that the patient's condition was serious before he was admitted to the institute, Ossama said.
"Three catheters were installed in his heart, and until the last moment he was in good condition, but it was God's will that he died," he added.
Ossama expressed his sadness over the incident. He said that the catheter room was prepared by the Armament Authority of the armed forces at a cost of LE8 million. According to Ossama, it served patients all over Egypt and would receive 15 patients a day.
He added that the catheter room is currently under the Public Prosecution seizure and will be released on Monday, and that the institute would start determining the size of losses on Monday.
"There are eight other modern catheter rooms at the institute. We can provide all services to patients," he said.