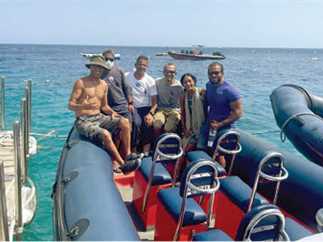 The Talaat Moustafa Group in Sharm el-Sheikh have rescued two divers lost at a diving site near the Strait of Tiran.
Sources from the Diving and Marine Activities Chamber (Sinai Blues) in a resort of the Talaat Moustafa Group in Sharm el-Sheikh stated that two divers were on a diving trip in the Thomas area near the Strait of Tiran when they went missing.

Immediately after the incident was reported, diving centers in the Tiran and Nabq regions started searching for the divers, who were found seven kilometers (five miles) away from the shore in good health.
The Talaat Moustafa Group owns a luxury tourist resort in Sharm el-Sheikh, the focus of attention for tourists of different nationalities, thanks to its unique location directly overlooking Shark Bay and being a few minutes away from Sharm el-Sheikh International Airport.
The resort includes dozens of luxury villas, each of which has a private pool and a jacuzzi, in addition to more than 100 chalets, and various restaurants overlooking the charming view of the Red Sea, multiple swimming pools, a private beach, a water sports area and a health club.