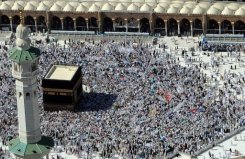 Two Egyptians died while performing hajj; one in Mecca and the other near Medina.
Mohammed al-Attar, head of the official Egyptian hajj delegation, said in a press statement Friday that one of the women, Namz Rakha, 60, died after the ihram ceremony in Abyaar.
The Egyptian delegation moved her body to Medina and buried her at Baqi Cemetery.
The other woman, Ghazala Abdel Ghani, 51, died in Mecca after she fell into a hepatic coma. Her funeral took place in Kaaba after Friday prayers, after her children granted permission for the funeral to take place.
Attar pointed out that under a new contract with the pilgrims, LE20,000 will be disbursed to the families of the dead.
The total number of Egyptian hajj pilgrims in 2012 is 78,138, according to Attar.
Edited translation from MENA