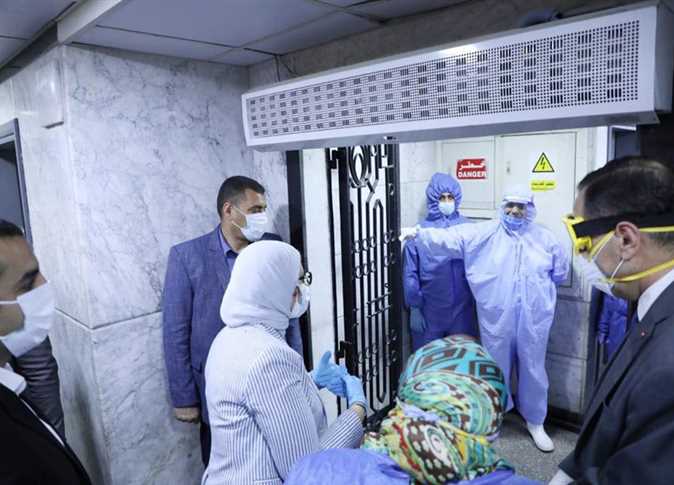 The Egyptian Doctors Syndicate on Wednesday announced the death of three physicians, two of whom were infected with coronavirus.
The third doctor died of severe respiratory failure.
The doctors are: Dr. Samir al-Ghandour, Professor of Orthopedics in the Faculty of Medicine at Suez Canal University, Dr. Mushira Mahfouz Qudsy, radiologist at Al-Mahalla Chest Hospital, and doctor Isaac Awad Attia, a gastroenterology and endoscopy consultant in Aswan.
The Ministry of Health had earlier announced that it will be adding a floor in each quarantine hospital with a capacity of 20 beds to treat coronavirus cases among medical staff.
It also said that it will conduct coronavirus tests on medical staff every 14 working days.
Health Minister Hala Zayed on Wednesday evening contacted a number of doctors who have been infected with coronavirus in quarantine hospitals and made sure that necessary medical care was being provided to them.
Zayed revealed on Monday, May 25 that 291 medical professionals, including 69 physicians, have been infected with coronavirus, while 11 physicians have died in Egypt's fever, chest and isolation hospitals.
Egypt's Medical Syndicate has placed the blame for the rising number of physician deaths to the coronavirus outbreak squarely on the Health Ministry, citing its negligence and inaction in a statement issued on Sunday, May 24.
It accused the Health Ministry of failing to perform early testing to diagnose virus cases among medical staff, and failing to carry out tests on those in contact with positive cases.
The ministry, it said, also failed to provide quick treatment for infected personnel, and neglected to provide them with appropriate supplies for personal protection.
It demanded that the ministry remedy these failings and provide a better treatment plan for medical staff, alongside granting them better forms of personal protection and supplies.
The Medical Syndicate on May 13 called for the allocation of a quarantine hospital specifically for physicians and nurses, due to increased delays in transferring medical professionals infected with coronavirus to hospital over the past few days.
Doctors of Al-Munira General Hospital on Monday published on Facebook a mass resignation following the death of their young colleague, Walid Yahya Abdel-Halim, from coronavirus.
The resignation stated that the ministry was negligent in providing preventive supplies for medical staff, which led to an increase in the spread of infection among them. It added that the ministry assigned many doctors to deal with coronavirus cases — which are outside their area of expertise — without training or a clear protocol, which also raised infections among them.
The document also referred to threats made against doctors of arbitrary administrative procedures to be taken against them for objecting to the situation, as well as threats to their security.
In response, Zayed on May 26 announced that the ministry is opening an urgent investigation into the death of a young physician named Walid Yahia Abdel-Halim, who died of COVID-19 in Al-Munira Hospital on May 24.
Zayed asserted that the ministry will take necessary legal measures regarding any deficiencies in dealing with Abdel Halim's case.