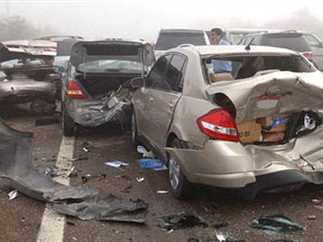 Two children were killed and eight others were injured in a car crash on the Regional Road at kilometer 20 heading to Cairo.
The injured were taken to El Alamein International Hospital for treatment and first aid.
Moaz Mahmoud al-Gendy, 7, and Omar Mostafa Salah, 4, from Qalyubiya Governorate were killed.
Nada Salah, 8, was injured. Nada suffered a suspected spinal fracture, a head injury, bruises and multiple abrasions.
Mostafa Salah Abdel Moneim, 36 from Qalyubiya sustained dislocation of the left shoulder and scars and bruises in the body.
Zeinab Reda al-Gendy, 32, suffered from various bruises and abrasions in the body.
Sabah Fatehy, 34, suffered from a five-centimeter cut in the scalp and suspected post-concussion.
Ibrahim Salah, 9, suffered from scattered bruises and abrasions, and Menna Mahmoud, 11, suffered from suspected post-concussion, a carotid wound, and facial wounds.
Mahmoud Metwally, 37, suffered from suspected right-hand fractures, bruises and abrasions in various parts of his body.
Hend Metwally, 3, suffered from bruises and abrasions.
Egypt's Central Agency for Public Mobilization and Statistics (CAPMAS) reported a decrease in the rates of car accidents due to improved roads across the country.
CAPMAS added that accidents in 2018 left 3,087 people dead, 11,803 injured and 13,441 vehicles damaged.
The human element was the main cause of accidents, accounting for 76.8 percent of total accidents in 2018, followed by vehicles accounting for 15.7 percent and the environmental element accounting for 2.7 percent.
Edited translation from Al-Masry Al-Youm