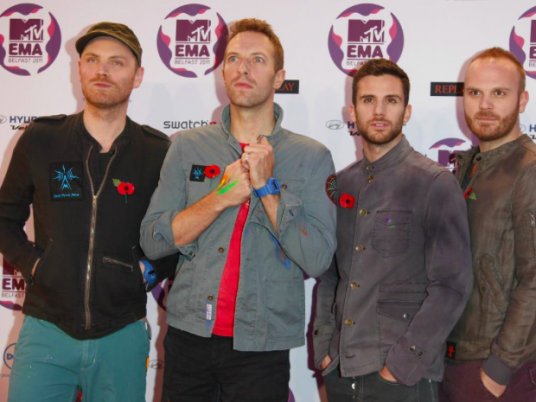 British rock band Coldplay may have won several Grammy awards for its music, but it has yet to convince Twitter users that its mellow ballads are suited for the normally peppy Super Bowl halftime show on Sunday.
On Friday, many on the social media platform poked fun at the band, known for brooding songs that are starkly different from the bubbly hits of last year's performer, Katy Perry. Upwards of 100 million U.S. viewers are expected to tune in for the intensely choreographed 15-minute set.
The jokes came in response to a push to popularize the hashtag #BetterHalftimeShows by the late-night show "Midnight," which airs on the Comedy Central network.
"I cannot wait to see people on social media somehow muster passionate opinions about Coldplay," the show's host, Chris Hardwick, said during Thursday's episode. He added: "Since the haters are coming, let's pre-empt them with tonight's hashtag."
The mocking of Coldplay began late last year, shortly after the band was announced as a performer for the 2016 game. Coldplay frontman Chris Martin has remained humble and upbeat, noting at a news conference on Thursday that everyone who performs at halftime "knows that it is the biggest honor, the biggest privilege and they put their life and soul into it."
Still, #BetterHalftimeShows was trending on Twitter the following day.
"Janet Jackson exposes Justin Timberlake's nipple #BetterHalftimeShows," tweeted TV writer Bryan Behar (@bryanbehar) on Friday, in apparent reference to the two performers' infamous "wardrobe malfunction" moment in their 2004 halftime performance.
Rock band the Dandy Warhols (@TheDandyWarhols) tweeted, "#BetterHalftimeShows why not just have the players put on some little skit?"
To be sure, some were looking forward to the performance. Mackenzie Soldan (@MackenzieSoldan), a Paralympic athlete in wheelchair tennis, tweeted: "I think I might be the only person excited to see Coldplay during the halftime show of the #SuperBowl. #BetterHalftimeShows #OhWell."
While Coldplay drew attention on social media, it did not beat Beyonce. Twitter Inc
said on Friday that the R&B singer garnered 182,000 tweets since she was confirmed as a performer for Super Bowl 50 in early January, and Coldplay clocked around 132,000 tweets in that same period.