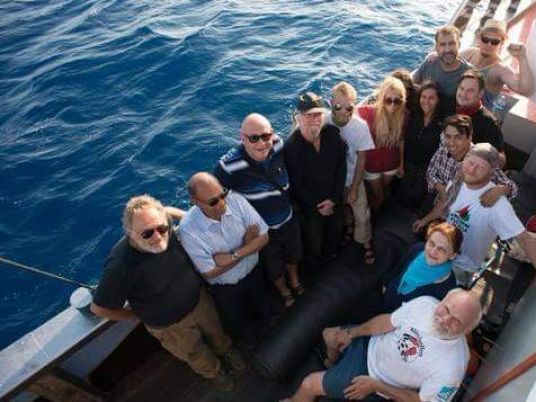 A Twitter hashtag launched by activists is urging Arab governments and international institutions to support a maritime convoy which was heading to the Palestinian Gaza Strip but was apprehended by Israeli forces, and voice solidarity with the blockaded enclave.
Freedom Flotilla 3, which set sail on Friday from Crete, was carrying pro-Palestinian activists, reportedly including former Tunisian president Moncef Marzouki.
Israel said its forces intercepted the flotilla on Monday. Israeli Defense Force spokesperson, Avichay Adraee said on his Facebook page that the measure was taken after the convoy refused to abide by the forces' warnings and requests to head to the Israeli seaport of Ashdod instead.
Respondents to the hashtag decried what they suggested was a failure by Arab governments to voice enough support for their campaign.
"We call upon (UN chief) Ban Ki-Moon and the international community to break their silence and bear responsibility in the kidnapping of solidarity activists," Palestinian faction Hamas, which has ruled Gaza since 2007, commented on Twitter.
"For once, prevent a crime instead of commenting on it later," wrote Rabia Haddad, a senior Lebanese Sunni leader and researcher, mentioning the United Nations, the European Commission, Human Rights Watch and Amnesty International in his tweet.
The Israeli intervention against the 2010 flotilla was fatal, with nine Turkish activists on board the convoy left dead, leading to aggravated tensions in Turkish-Israeli relations. The incident drew wide-scale international condemnation.