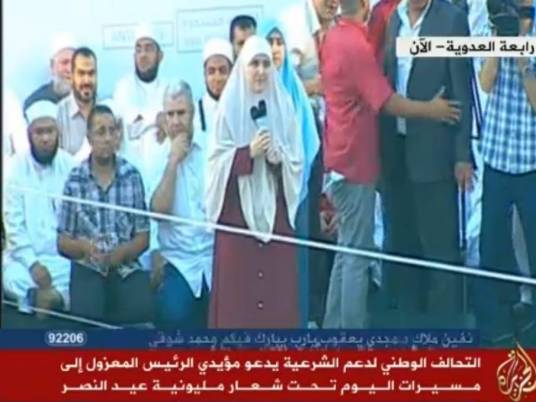 TV presenter Iman al-Hosary from Mehwar Satellite Channel expressed her dissatisfaction with the behavior of Naglaa Aly, the wife of deposed president Mohamed Morsy, after an on-air phone conversation ended badly.
When Hosary referred to Morsy as the "ousted" president, Aly replied, "when you say 'Mohamed Morsy, the legitimate president,' I will answer you," before hanging up the phone.
Hosary then described Morsy's family and followers as suffering from "legitimacy hysteria."
The word "ousted" is the best to describe Morsy, Hosary argued. "I didn't call him 'terrorist' or 'traitor,'" she said, adding that Aly's behavior was not worthy of a former first lady.
Hosary explained that the show's producers had tried to contact Morsy's family to verify their claims that he is not at Borg al-Arab prison in Alexandria but rather murdered or abducted.
Edited translation from Al-Masry Al-Youm